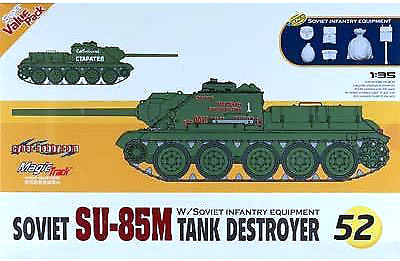 Feature Article with Roger Brown
A little bit of background to the Su-85
The SU-85 was a Soviet self-propelled gun used during World War II, based on the chassis of the T-34 medium tank.
Earlier Soviet self-propelled guns were meant to serve as either assault guns, such as the SU-122, or as tank destroyers, the SU-85 fell into the latter category.
The SU-85 was a modification of the earlier SU-122 self-propelled howitzer, essentially replacing the 122 mm M-30S howitzer of the SU-122 with the D-5T high-velocity 85 mm anti-tank gun.
The D-5T was capable of penetrating the Tiger I from 1000 metres. The vehicle had a low profile and excellent mobility.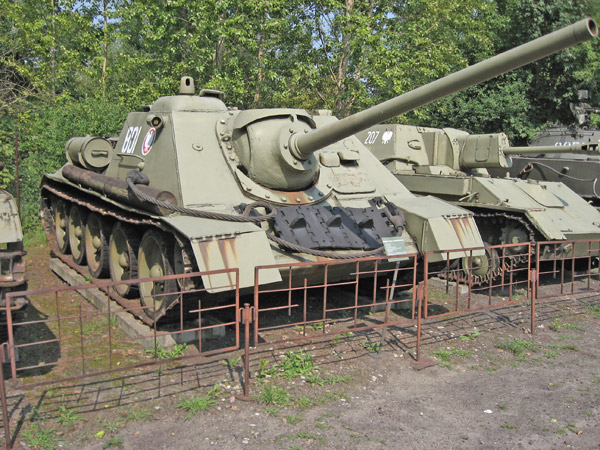 Initially given an armoured commander's cap on the first batch, the SU-85's observational optics were improved by the introduction of a standard commander's cupola in addition to the already existing prismatic observation sights installed in left side and rear. On later vehicles, the same optics were added, almost allowing all-around observation.
The Cyber Hobby kit
Cyber Hobby's Su-85 is the 'Super Value Pack' edition of the Dragon kit.
The Dragon kit contains in addition many photo etched parts, an aluminium gun barrel, decals for several schemes and extra parts to also make up an Su-100.
The Super Value Pack contains the main parts on eighteen sprues, a separate lower hull, the magic track links in two bags (more of those later), a sprue of Soviet army equipment and a small sheet of decals for two schemes.
There is a choice of damaged or un-damaged fuel drums and the front and rear fenders have received some distress already.
The instructions are laid out on six pages, one of which shows the layout of the sprues.