Kit: KT115
Feature Article by Mark Howard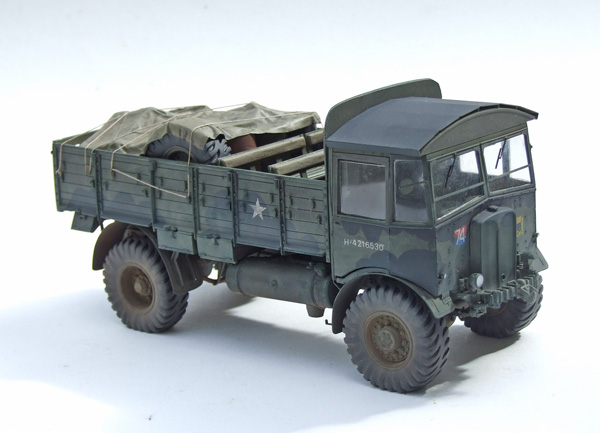 A MIGHTY MATADOR
In an unusual step, I am going to begin this article with a brief statement to all the geeks and rivet counters out there. Before you throw up your hands in horror and dive to your keyboards, I would like to point out that I am aware that my Matador should have a canvas tilt. I also admit that the markings are made up and probably totally wrong! I have my reasons that I hope will be explained in the following article.
A little bit of background
The AEC 0853 Matador 4×4 artillery tractor was developed as a mid-sized vehicle to plug the gap between the Morris Quad (of 25lbr gun fame) and the large 6×6 Scammell Pioneer. The Matador was usually associated with the 5.5in gun or the 3.7in AA gun, though it was used with others. The RAF also used Matadors as flat bed load carriers or, in 6×6 form, as heavy tankers. (Technically, the 0854 6×6 was called a Marshall, but it was usually referred to as a Matador). The chassis and running gear was also used as a basis for the Dorchester Armoured Command vehicle.
The Matador was popular vehicle, with around 9000 being produced. It served in most theatres of the war, and went on to serve in the post war army.
Following their 'de-mobilisation', many went on to serve in the civilian world. They were often used by showmen and as recovery vehicles, though the most common use was in the forestry industry, for which their rugged construction and off-road capability made them well suited.
Some Matadors had remarkably long lives. When travelling on the school bus to Ross on Wye in the early nineteen eighties, I would often see a converted Matador at work in a small timber yard!
MINI MATADORS
Though I am a big fan of the Matador, I would be the first to admit that it is not an iconic softskin in the same way as a Jeep, Kubelwagen or even a Quad. Despite this, the Matador is quite well served by the model industry in various scales. Airfix produce an artillery tractor and refuelling tanker in 1:76th, Accurate Armour an RAF flat bed and tanker in 1:48th and three versions of artillery tractor in 1:35th, while Kit Form Services produce a simply stunning artillery tractor in 1:24th scale.
A model of the Matador has long been on my wish list, but as the only available 1:35th model at that time was one of Accurate Armours (AA) resin versions, it was a little out of my price range. A couple of years ago, I came across a well-known modeller who was clearing out his stash at the IPMS Avon show at Yate. He let me have one at a very reasonable price, and last winter I finally got round to putting it together.