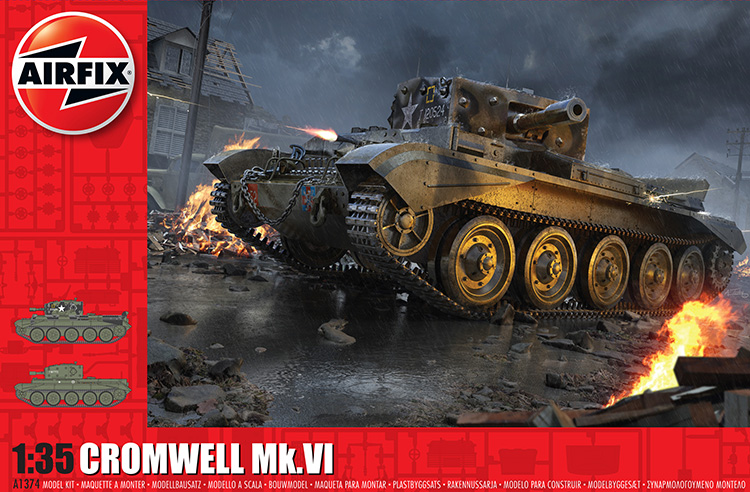 Full Review with Adam Waistell-Brown
A note before we start…
Don't forget that there is an In-Box Browse of this Mk.VI Cromwell kit in SMN by Geoff C, as well as the Airfix Cromwell Mk.IV. He's also completed a full build for the Mk.IV.
A little bit of background on the Cromwell…
The Cromwell tank, officially Tank, Cruiser, Mk VIII, Cromwell (A27M), was one of the series of cruiser tanks fielded by Britain in the Second World War. Named after the English Civil War leader Oliver Cromwell, the Cromwell was the first tank put into service by the British to combine high speed from a powerful and reliable engine (the Rolls-Royce Meteor), and reasonable armour. The intended dual-purpose high velocity gun could not be fitted in the turret and the medium velocity dual purpose gun fitted proved inadequate. An improved version with a high velocity gun became the Comet tank.
The name "Cromwell" was initially applied to three vehicles during development. Early Cromwell development led to the creation of the A24 Cavalier. Later Cromwell development led to the creation of the competing Tank, Cruiser, Mk VIII, Centaur (A27L) design. The Centaur tank was closely related to the Cromwell, both vehicles being externally similar. The Cromwell and Centaur tanks differed in the engine used; the Centaur had the 410 hp Liberty engine, the Cromwell had the significantly more powerful 600 hp Meteor.
The Cromwell first saw action in the Battle of Normandy in June 1944. The tank equipped the armoured reconnaissance regiments of the Royal Armoured Corps, in the 7th Armoured Division, 11th Armoured Division and the Guards Armoured Division. While the armoured regiments of the latter two divisions were equipped with M4 Shermans, the armoured regiments of the 7th Armoured Division were equipped with Cromwells. The Centaurs were not used in combat except for those fitted with a 95 mm howitzer, which were used in support of the Royal Marines during the amphibious invasion of Normandy.
Introduction…
Whilst scrolling through my notifications on my phone I saw that Geoff had posted up in the Club WhatsApp group and asked if anybody would like to build the new Airfix Cromwell.
I piped up and said I'd like to as I have been toying with building armour since my last tank kit around 30 years ago.
Thinking this kit was an Academy re-box (like the recent Airfix kits have been) how wrong I was!
This kit is a brand new tool with photo etch parts, multi-piece and vinyl tracks included.