Full Review with Mark Rooks
Just before we get started, here's a look at how it all turned out…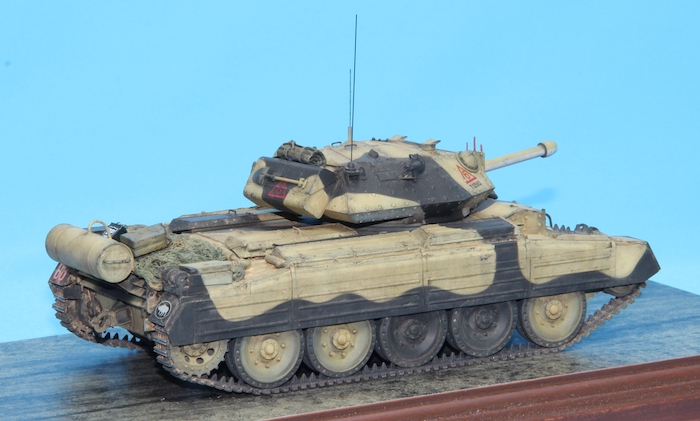 Introduction…
Due to delays with the Cruiser Mark VII Cavalier and the need for cruiser tanks, the Crusader was up-gunned with the 57 mm 6-pounder, the first British tank to mount this gun. Design work for a new turret started in March 1941, but Nuffield was not involved until late in the year, when they adapted the existing turret with a new mantlet and hatch.
The turret also received an extractor fan to clear fumes from the firing of the gun. The larger gun restricted turret space, so the crew was reduced to three, with the commander also acting as gun loader, a role previously performed by the wireless operator. The auxiliary turret space was given over to ammunition stowage.
Crusader III also saw the introduction of the Mk.IV Liberty engine, fixing many of the reliability issues previously encountered. This featured the Mk. III engine's later updated water pumps along with a shaft drive replacing chain drive for the cooling fans.
Production started in May 1942 and 1944 were complete by July. The Crusader III first saw action, with about 100 participating, at the Second Battle of El Alamein.(Source Wikipedia)
The Kit…
This is a kit from Border models, a relatively new model company which famously has recently released the rather expensive, but beautiful, ex Wingnut Wings 1:32 scale Avro Lancaster.
This 1:35 kit of a Crusader Mk III is a welcome release for fans of British WW2 Armour, with only the Italeri/Tamiya kit being available in the last few years. The kit is very well moulded and includes a sheet of etch brass and in addition, a metal barrel, although a slide-moulded barrel is also provided. It has a well laid-out instruction sheet, although there are some minor irritations in the instructions with spelling and a couple of poorly explained sections. Overall – quite a classy production.
Markings are provided for three vehicles based in North Africa during the period 1942-43. Interestingly, Border provide etch-brass for the smaller sides-skirts – sometimes fitted to Mk III's, but strangely, none of the colour schemes have these as an option.
A bonus with this release is a lovely A4 size cutting mat adorned with the kit subject.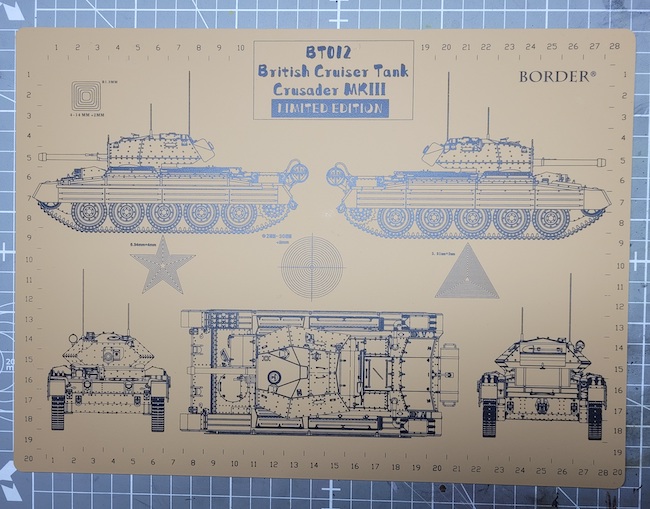 Cutting mat.