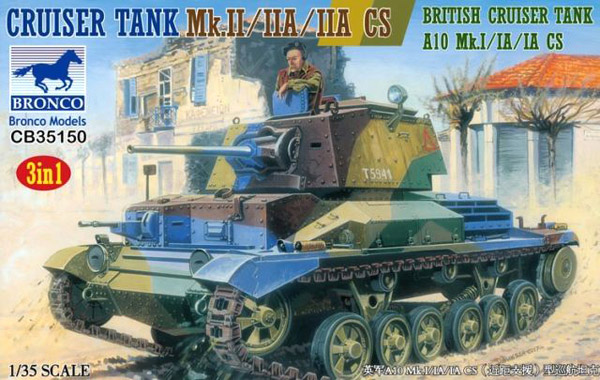 with Dai Williams
A note from Geoff…
Luckily enough I have photos of Dai's completed Bronco A10 Cruiser Tank and very nicely it turned out too – take a look…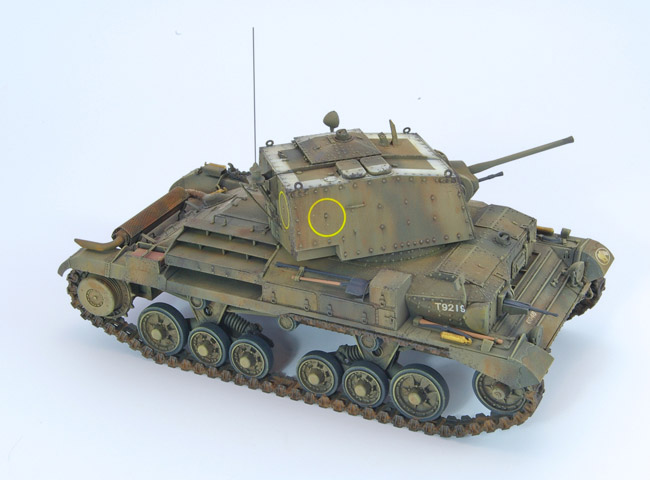 Over to you Dai…
So what are we dealing with here? The naming conventions for British tanks in the 1930s and early 1940s can seem confusing to say the least with several different names being applied to a vehicle throughout its lifetime. The Vickers A10 was eventually designated the Cruiser Mk.II. It was then proposed that the vehicle and its contemporaries would be known as 'Reptile Class' vehicles in which case The Cruiser Mk.II would have been re-designated 'Cobra'. In the end this naming convention was never adopted and by the time the practice of giving British vehicles names such as 'Crusader' or 'Churchill', the A10 was no longer being built.
The A10 / Cruiser II was originally intended to be a heavier version of the earlier A9 / Cruiser I. As such it was originally designated an infantry tank. It had an armour thickness of 30mm and when the minimum armour thickness for infantry tank armour was revised to 60mm the vehicle became known as a 'heavy cruiser'.
There were three variants produced:-
The Cruiser II – which carried a two-pounder gun and a single Vickers machine gun in the turret.
The Cruiser IIA – which carried a two-pounder gun with a Besa machine gun in the turret and an additional Besa machine gun in the hull.
The Cruiser IICS – which carried a 3.7 inch mortar with a Besa machine gun in the turret and an additional Besa machine gun in the hull.
All three of these variants can be built from the Bronco kit.
The A10 began its trials in 1937. The increase in armour thickness when compared with the A9 led to an increase in weight which limited the vehicle's speed and adversely impacted its cross-country performance. Despite this, the two-pounder gun was effective against most of the German tanks encountered during the early stages of the war and the A10 saw action in France, the Western Desert and in Greece.
Apart from a few unsuccessful prototypes the vehicle was not developed into any specialised variants. The Cruiser II was withdrawn from service and relegated to training duties when more capable armoured vehicles such as the American M3 Lee became available.