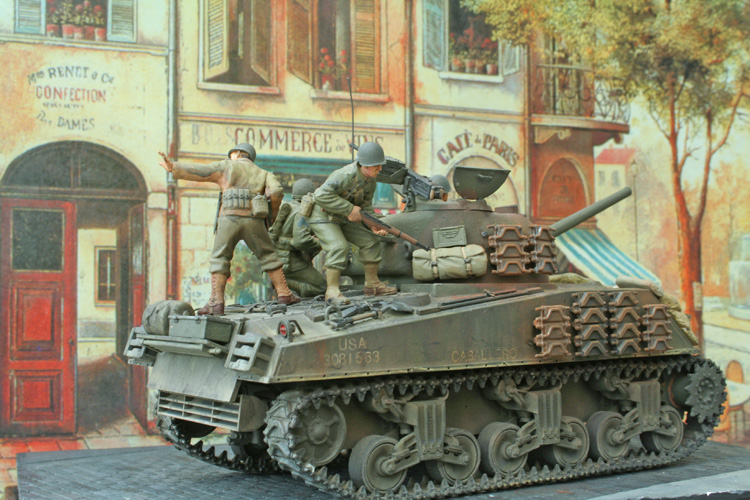 Feature Article by Steve Noble
Introduced in the first half of the Second World War, the Sherman tank would undergo a continuous program of improvements to keep pace in the developments in protection and firepower of German tanks. By the Invasion of France in 1944 Sherman tankers were encountering superior German tanks and antitank guns.
With the expectation of the delivery a new and more suitable tank, The Pershing, plans for improving the armour of the Sherman tank were limited by the risk of disrupting supply while upgrading the tank production lines.
The need for an assault version of the Sherman to deal with strongpoint defences resulted in a limited number of Sherman tanks being up-armoured. These were the M4A3E2 version now referred to as the Jumbo. The upgrade specification included welding additional plates to the side and front plates doubling the thickness of armour. The transmission cover was redesigned and increased in thickness to 100mm with a more rounded profile. A new turret and gun mantlet was designed to provide the same level of protection.
With no high level organisational plans in place, local units chose a number of initiatives to supplement its armour. This included sandbags; logs; cementing over the hull and welding on additional steel plates and spare track links. While all offered some degree of protection against infantry antitank weapons they provided only limited protection against antitank shot. For the tankers, even a small gain was of value. Within the chapter, a number of conversions demonstrating the types of modifications made will be set out in the form of vignettes and dioramas.
Being readily available, it was a common practice to weld spare track links to vulnerable locations on the hull and or supplement this with the addition of sandbags. Starting with the dioramas "Sniper" and "Thank You" explains how this was replicated.