Full Review with Dai Williams
---
A note from Geoff C…
Here's a quick look at how it all turned out and Dai has done a great job bringing out the best in the kit with some great painting and weathering.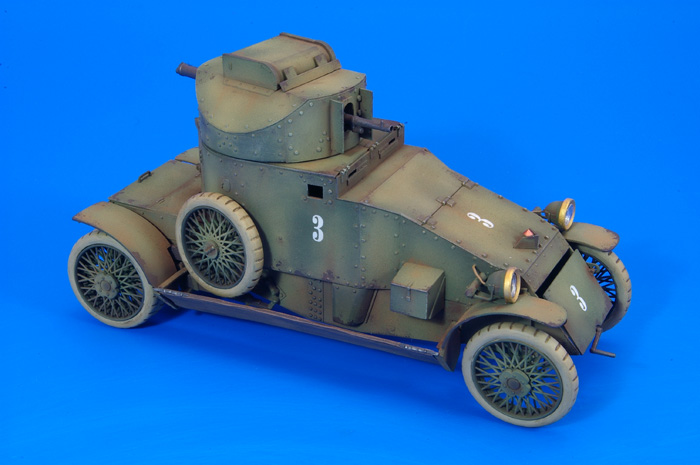 History
The Lanchester Armoured Car was developed in 1915 based on the chassis of the Lanchester Sporting Forty Luxury Tourer.
The chassis and suspension were strengthened to take the weight of the armour. A turret was fitted (of the same design as that fitted to the contemporary Rolls Royce Armoured Car) which carried a single Vickers machine gun.
The vehicle had several advanced features for its time including dual ignition and full pressure lubrication.
In 1915, three squadrons of the Royal Naval Armoured Car Division were equipped with Lanchester armoured cars and sent to France.
These vehicles were eventually handed over to the British Army. However, following the army's decision to standardise on the Rolls-Royce Armoured Car (to reduce the logistical demands of operating various types of vehicles), the Lanchesters were withdrawn to Britain whilst some were also sold to Belgium and Imperial Russia.
The vehicles operating in Russia were put to more widespread use than they had been in British service. In order to fulfil a wider variety of tasks, many were modified to carry a 37mm Hotchkiss Gun in the turret in addition to the Vickers gun. A large stowage box was also fitted to the rear of these vehicles.