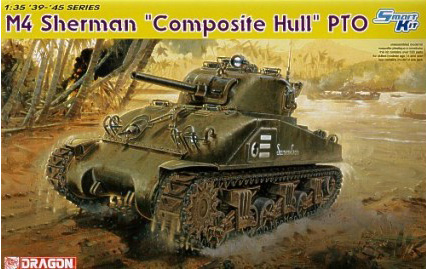 Kit No: 6441
Feature article by Malc Ireson
Intro from Geoff…
Long overdue, it's great to have Malc Ireson join the SMN line up and get going with his impressive build of the much improved DML offering of the M4 Sherman Composite PTO tank – a new-tool to replace their earlier release.
As you'll see, Malc doesn't shy away from adding extras and accessories within the boxing or from elsewhere and so let's get started – over to you Malc… Thanks and great to see you in SMN and I'm sure we'll see you again very soon. GC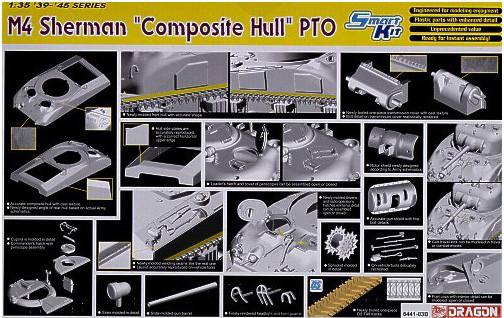 Here's my box review of the kit, just before we get stuck into the build…
It looks like Dragon are running through the whole series of Sherman variants, so it was just a matter of time until they came along to the composite hull Shermans. What this basically means is that the front of the hull is cast, while the rear of the hull is welded, and they all but meet in the middle, well actually, more towards the front, but you get the idea.
I remember a while back, when DML released their first offering of this vehicle, with the 17 pdr turret, there were a few mistakes to say the least, so how does this offering pan out?
It comes in the now familiar box, with detail shots on the back and sides, and a rather good looking box top picture, always helps. There are some 330 parts in the box, which include:
DML's rubber tracks, which are very good
an etched fret, more of which later and
11 sprues, one of which is perspex, for the periscopes, sights etc.
On looking at the plans, the build is fairly straightforward, no major problems anywhere, the decals look very good, and are fairly colourful for a Sherman, they show 4 different vehicles, all from the Pacific Theatre of Operations (PTO).
Southern Cross, 44th Tank Btn, Limon 1944
Bushmaster, 763rd Tank Btn, Leyte 1944
CO B coy 44th Tank Btn Manila 1945 (battling Basic, and Ole Miss)
All of these vehicles are all well documented in various books, but with the right decals, and reference, this could be turned into an ETO vehicle very easily.
All parts are very crisply moulded, free from flash, and with a fair amount of detail, all in all very good, and well presented, DML have really got their act together and seem to be getting better all the time with each release, be it allied or Axis.
The brass etched fret is for me is the best bit of the kit, DML should sell these on their own, they are that good, and for the first time I can remember, they have included tool tie down belts and buckles, along with all the other cool stuff like brush guards, fenders, etc.
To sum up then, is it good, you bet ya!!
Being that it's a composite hull Shermy, its open to some very nice weathering possibilities, and being a Pacific Shermy, even better. Well done DML, another very nice Sherman to go with the collection.