Feature one-part build
Short Feature Article by Steve Noble
"The Expedient Jumbo"
As soon as the invasion of France began, the Allies quickly became aware of the inadequacies of its main combat tank, the Sherman. Out gunned, poorly armoured and outclassed in terms of target acquisition/range, the Sherman took heavy casualties. With the Germans fighting from defensive lines with antitank guns and tanks used as strongpoints, the advantage of mobility in open battle was also lost.
The risk to the tanker increased as German infantry were issued with the Panzerfaust: a handheld disposable launcher firing a shaped charge. Striking against the hull of a tank, the shaped charge would focus a jet of molten metal through the hull and into the crew compartment.
The Allies need for an assault tank to breach strong points was to have been met by the Pershing tank which was under development in the lead up to the invasion. Delays resulted in failing to deliver it and as an interim measure an assault version of the Sherman was produced in limited numbers. With a minimum of twice the normal thickness of armour, the M4A3E2 was capable of deflecting/surviving a direct hit from a German 88mm gun (see previous article).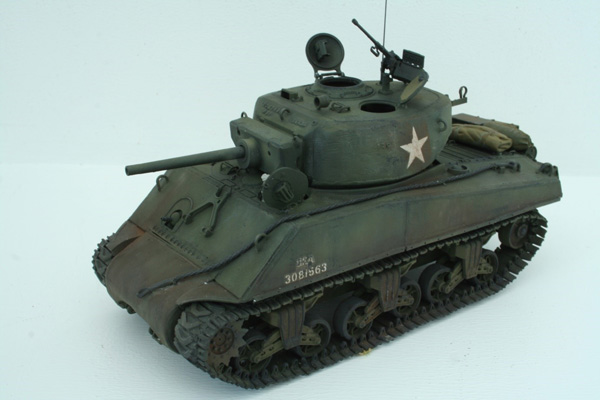 Since the end of the war the tank has commonly been known as the "Jumbo". Commanders were soon calling for more than the 254 vehicles produced. Requests poured in but were refused as they would further delay the Pershing and interrupt the essential supply of Sherman tanks required to replace losses.
As a result tankers, using their own initiative, took to adding any form of additional protection to supplement its armour. This included sandbags; logs; cementing over the hull and welding on additional steel plates and spare track links. While all offered some degree of protection in dispersing the shaped charge and stopping/reducing penetration of the hull, only the addition of extra armour was effective in reducing the impact of antitank shot.
Viewing the alternatives as ineffective (with the additional weight increasing fuel consumption and damage to running gear and suspension) General George Patton ordered that for the American 3rd Army that 76mm Sherman tanks (M4A3(76)W and M4A3(76)W HVSS) "not already equipped with heavy armoured plate similar to that on the M4A3E2 were to be carried out with the least practicable delay".
Scrap armour from German and Sherman wrecks was taken and fitted to produce what is now commonly known as the "Expedient Sherman". Using local civilian firms, a general pattern was followed but depending on what was available, the armour fitted was individual to each tank.