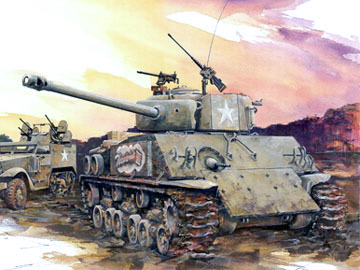 Feature Article by Malc Ireson
Introduction
The easy 8, as it was known is thought to be the ultimate Sherman of WWII. This mark of Sherman started to be produced in the latter months of 1944, most of these tanks were fitted with new suspension units and started to show up on the battlefield shortly after the end of the Battle of the Bulge, a few easy 8's saw limited action in that engagement however most came later. To put it simply this was a standard M4A3, fitted with a T-23 turret and side fenders, the suspension upgraded to the new HVSS (horizontal volute spring suspension).
The suspension springs on the Easy 8 were fitted horizontally, instead of vertically like the traditional Sherman's. The wheels were changed to a more robust type, and the addition of return rollers completed the transformation. The new running gear required a new track, which it got in the form of T 66 steel cast tracks which were the most common, some later tanks were fitted with T-80 tracks towards the end of the war however they were few and far between.
Most but not all of these Sherman's were covered in appliqué armour, this was retro fitted to the vehicles in the field using the front plates of knocked out M4A3 Sherman's; some even used the armour of knocked out panthers which added to the overall protection of the crew, this was at the cost of weight and speed of the vehicle; this practise was frowned upon by General Patton, but the Sherman's of his 3rd Army were given permission to do this.
Here's a photo of my completed model right up front – then you can read all about it!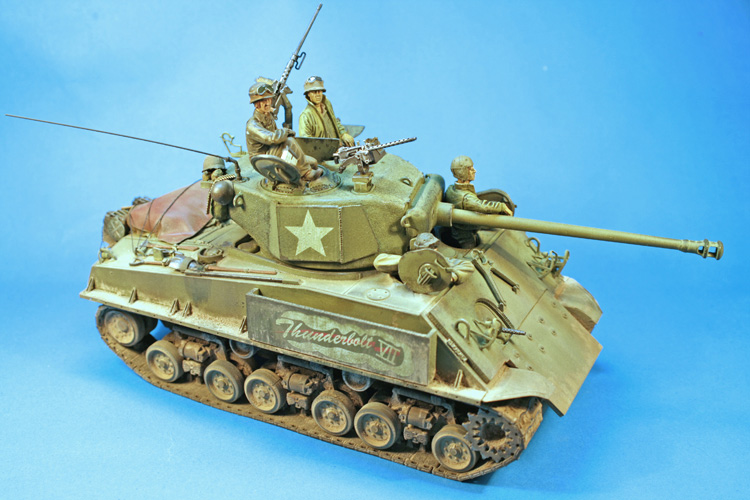 The Model
This is one of Dragons new Sherman's and it shows, it appears that DML have listened to what modellers are saying and asking for, multi media suspension units, the tracks are the new MAGI track, Raised weld lines on the hull, metal barrel, 4 decal options and PE all come together in one place allowing the construction of a very accurate model to be made without added expense.