Short Feature Article with Steve Noble
The Vietnam War embroiled the American Armed Forces in a guerrilla war where the tactics of hit and run overshadowed conventional engagements. The terrain precluded the large scale use of armour and tanks resulting in much of the fighting being carried out by infantry and marines fighting largely on foot.
To get them into battle, where terrain permitted, the M113 armoured personnel carrier (APC) was used while in other situations the helicopter was widely used for inserting and extracting men from the battle zone. Engagements between the opposing sides would often be on a small scale and result from hunt and destroy missions using ambushes where the element of surprise was key.
The following diorama was constructed to represent an infantry squad caught in the open and having to fight to get back to the shelter of their M113 APC.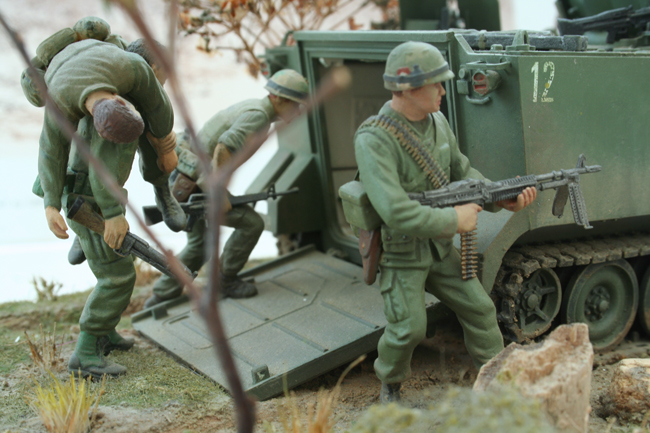 In choosing to build the diorama, Tamiya's M113 ACAV kit was used supplemented with figures taken from Dragon's US Marines (Tet Offensive) set.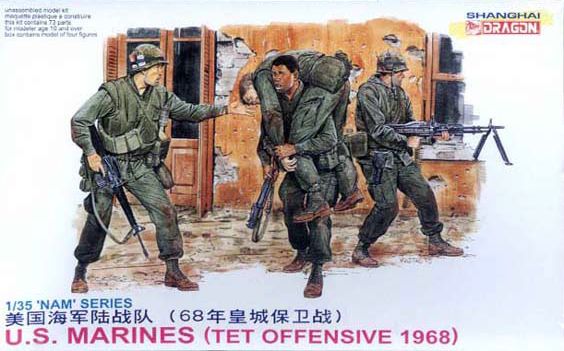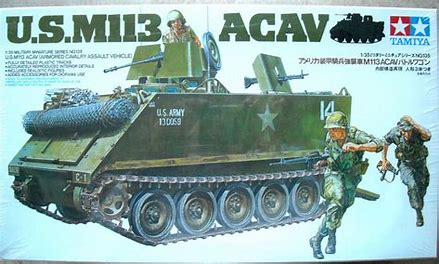 Tamiya's M113 is the ACAV (armoured cavalry assault vehicle) which was an upgraded version of the original providing an armoured cupola for the commander and additional firepower with two fixed M53 machine guns behind shields.
The kit is a simple design with the main hull being essentially a box to which a full interior is added before fitting the roof, rear access door and on the front, the flotation vane. The running gear assembly is straight forward, and the rubber band type tracks have a decent level of detail.