Feature Article with Colin Izatt
Here's a quick look right up front for how it all turned out…

The Subject…
The Tiger Ausfuehrung (model designation) B AKA King Tiger was one of the heaviest tanks to be produced in the second world war.
Weighing in at an impressive 69,800 Kg – just short of seventy metric tonnes it was not produced in large enough quantities to make any difference to the course of the war, with less than five hundred produced.
Series production began in January 1944 and continued right up to the cessation of hostilities. As normal for German tank production there were alterations and improvements made as production proceeded. One notable one being the first fifty examples with a different turret erroneously referred to as Porsche turrets. All versions made had a main armament of an 8.8 cm Kw.K. 43 L/71 gun.
According to my main reference used – Germany's Tiger Tanks. VK45.02 to Tiger II by Thomas L Jentz & Hilary L Doyle ISBN 978-0764302244 there was twenty-eight external visible changes over the production run.
The above picture from the German Tank Museum has hangers for spare tracks which were added from May 1944 onwards and is an example of one of the external changes made.
Good information about the vehicles can also be found online with a good synopsis here
https://tanks-encyclopedia.com/ww2/germany/panzer-vi_konigstiger.php
and here
https://en.wikipedia.org/wiki/Tiger_II
The Kit…
Like a previous SMN build here.
The kit is a stripped-down version of an earlier kit with full interior
https://www.scalemates.com/kits/takom-2130-king-tiger–1243498
You get a choice of building either a machine as found on the production line in March 1945 or a July 1945 "What if" with some of the planned improvements including a proposed up-gunned version with a 105mm weapon. The typical Takom instructions have four different camouflage schemes illustrated in colour with some construction steps from 17 onwards having choices of which features from the versions you want to add/make.
It was my intention to build the model as a July 1945 variant with just the approved improvements detailed in my main reference but as I will explain later it did not go exactly to plan.
Accessories used: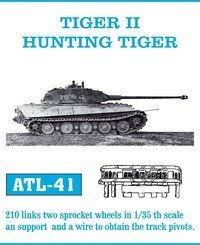 Friul metal tracks ATL-41 https://friulmodel.hu/termek/atl-41-tiger-ii-hunting-tiger/

Aber 35G06 photoetch grills http://www.aber.net.pl/detal,153.html

MJ Miniatures 3D printed resin tool clamps https://www.mj-miniatures.co.kr/product-page/1-35-wwii-german-clamp-tool-set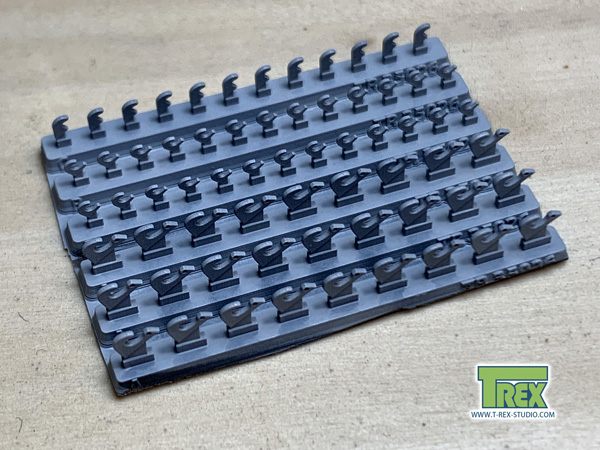 T-Rex Studio 3D printed resin hooks http://www.t-rex-studio.com/newsitem/278372869