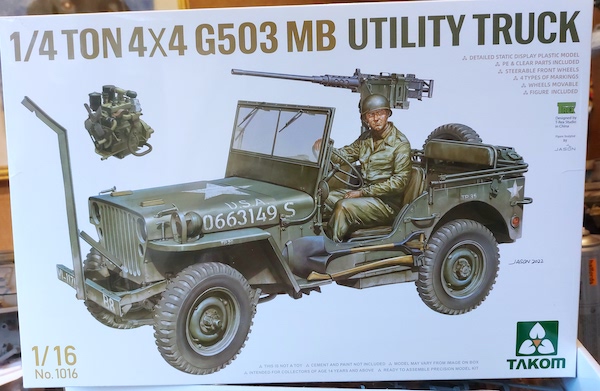 Full Review with Rob Ruscoe
Just before we get going, here's a quick look at how it all turned out (apologies as the steering wheel ent AWOL on the way to the final photography session!)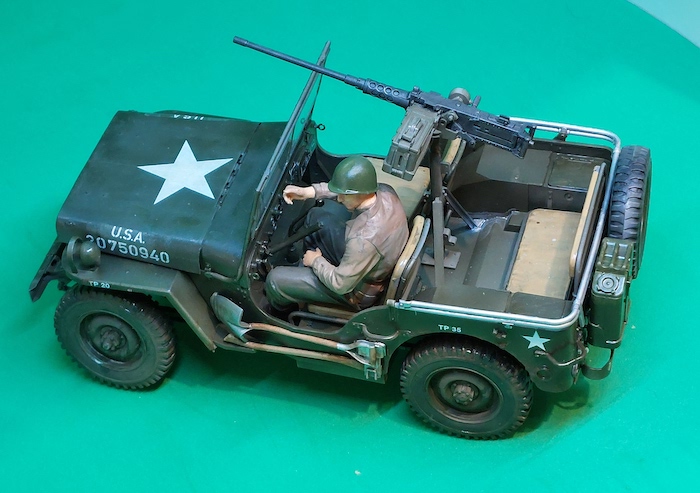 It's a Jeep!
Although not mentioned anywhere in the instructions or on the box, what we have here is a Willys Jeep. The nickname 'Jeep' supposedly came from the designation GP for General Purpose vehicle and this name is what every serviceman at the time and every one since now knows it by.
Produced by Willys as the MB and Ford as the GPW from 1941, the ubiquitous jeep became the primary light multi-role vehicle of the US Military and its allies during the Second World War and beyond.
Just short of 650,000 jeeps were manufactured and it is still the most recognisable military vehicle even today.
The Kit
For such a small vehicle, even in this scale, quite a large box is required to hold a surprising amount of plastic. Each of the twelve sprues is individually bagged along with two small frets of etched brass, and a decal sheet containing four marking options. All the components are sharply detailed and flash free.
The instruction booklet is Takom's usual style giving a clear and logical build sequence.