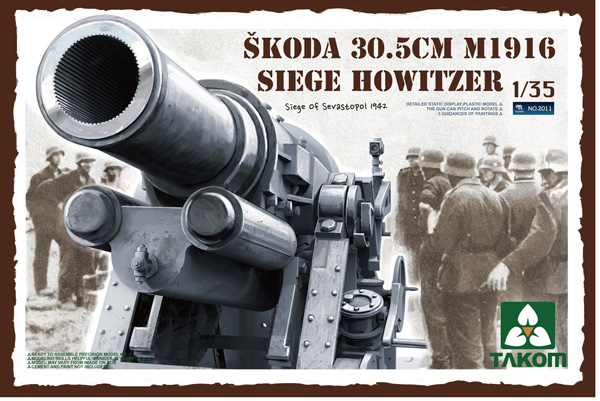 Feature Article by Bill Curtis
Used by the Austro-Hungarian Army during World War I and by Nazi Germany in World War II Skoda built 51 complete guns in 1916, Italy received 16 from the Austro-Hungarians after the end of the war. Italy used these up to at least June 1943. Italy, Czechoslovakia and Yugoslavia shared these guns after the war.
During WWII Germany captured some of these howitzers from Czechoslovakia (17 pieces) 30.5cm H638(t) in 1939 and Yugoslavia (5 pieces) 30.5cm H638(j) in 1941, M11 and M11-16 having a barrel length of 10 calibers.
The Skoda 30.5cm M1916 Siege Howitzer saw service against Poland, France and the Soviet Union in World War II where they served with Heavy Artillery Battalions (schwere Artillerie-Abteilungen) 624, 641 and 815 as well as two Heavy Static Artillery Batteries (schwere Artillerie-Batterie (bodenstandig) 230 and 779.
I bought the kit from a guy at a model show and as it was started got it for a good price. It needed some clean up before I completed the model build which was very straightforward. On reflection it may have been better to leave it in parts and paint / weathering before assembling, but hind sight is a wonderful thing.