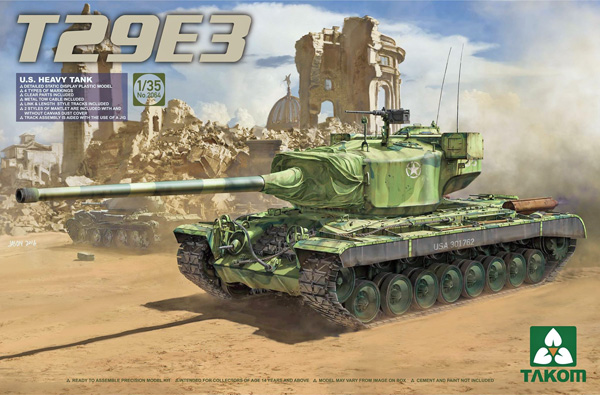 Short Feature Article by Dai Williams
The subject of this build is the Takom T29E3 built more or less straight out of the box. Here's a quick look at my completed model…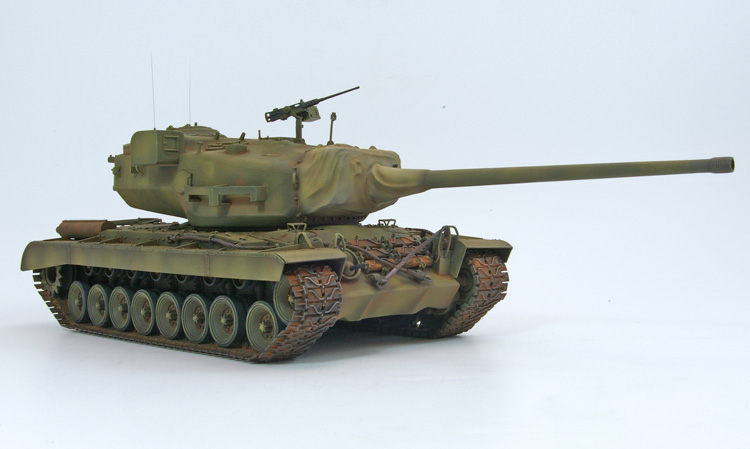 Towards the end of the Second World War the M26 Pershing entered service in the European Theatre. This vehicle was much more heavily armed and carried thicker armour than the M4 Sherman. However, there were still concerns that it might not have been able to deal effectively with the much heavier German Tiger Ausf B then being encountered. To address these concerns the T29 and similar T30 were developed. The T29 was based on a lengthened Pershing chassis and carried a 105mm gun in an enormous turret. The vehicle had a stereoscopic range finder housed in two armoured extensions to the turret sides. The end of the war in Europe led to the termination of development of these vehicles after only a few prototypes had been constructed.
A number of T29 and T30 prototypes have survived in museums in America and so there are a few sets of Walkaround photos available on the internet which I found very useful.
A noticeable feature of the T29 was the rough casting texture on the turret. I assume that being prototype vehicles, the casting was being developed and perhaps production vehicles would have looked a little neater. This rough texture is well represented by Takom. The stereoscopic rangefinder is not supplied and surgery will be required to open the turret doors should you wish to add one.