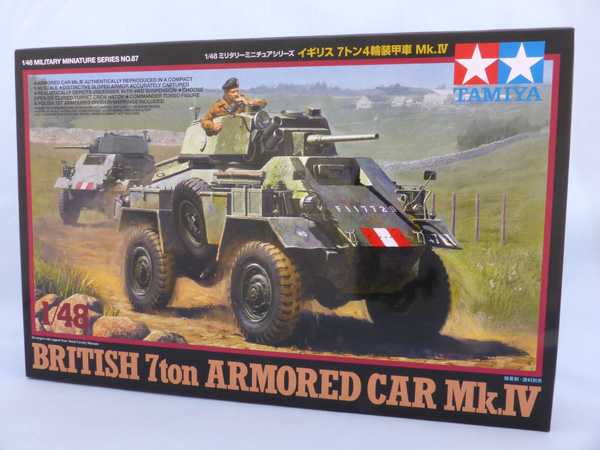 Feature Article by Julian Shawyer
Kit item number: 32587
Background
Produced by the Rootes Group, the Humber Armoured Car was one of the most widely manufactured British armoured cars during the Second World War. Ordered in 1940, production started in 1941 with the Mk I. This continued until 1942 with the Mk II and Mk III. Production then started on the Mk IV continuing until 1945. They saw action in North West Europe and Italy.
After the war surplus Humbers were sold to Burma, Ceylon, Cyprus, Denmark, Egypt, Holland, India, Mexico and Portugal.
Specifications of the Mk IV 7 ton armoured car included, sloped armour, a fully rotating turret and 4WD. It was powed by a Rootes 6 cylinder (90hp) petrol engine giving a speed of 50mph with a range of 200 miles. With a crew of 3 the Mk IV was equipped with the US M5 or M6 37mm high velocity gun as the main armament, and a Besa 7.92mm as secondary armament.
The kit
The box art – on the box the kit is described as a British 7ton Armored car Mk IV. Which is the Humber Mk IV Armoured Car. I should think this is to avoid a copyright issue, but I don't know for sure. The 85 parts are moulded in dark green plastic to the normal high standard of Tamiya. This includes a torso figure and markings for one vehicle.
When completed, the model is 95mm in length and 48mm wide.