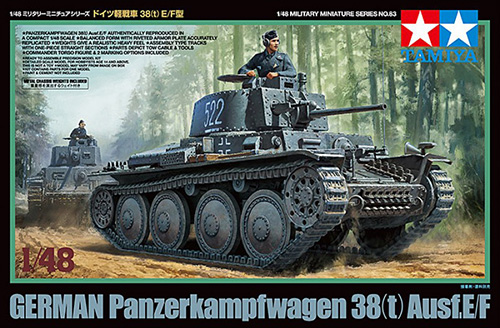 By Bill Curtis
Some background
The Czech company CKD (Ceskomaravska Kolbern Danek) started work on a replacement for the LT-35which, was a joint production venture with Skoda, in 1935. The replacement was to be the LT-38 of which an order for 150 vehicles was place but none were available at the occupation in March of 1939.
The Germans thought this an excellent tank and ordered continuation of production and was in-corporated into the Werhmacht as the PanzerKampfwagen 38(t). Construction was of riveted ar-mour plate with a rear engine and carried a 37mm Skoda A7 gun with two ball mounted machine guns of 7.96 calibre.
This vehicle performed well in the early war years in Poland, France and Russia but was then found to be inferior to enemy armour and the tank version stopped production in 1942. The chassis was used in other variants including the Marder III of which two types were produced, Jadgpanzer 38(t) Hetzer and a 2 cm Flak Panzer.
The Tamiya kit
The kit is produced in grey plastic with nice crisp clean detail for a kit of this scale includes the sprues; poly caps a small decal sheet; two iron ingots to add weight and a small decal sheet for two vehicles. The tracks are the link and length variety with the correct sag for the top runs again well moulded. The last item is the instruction booklet which is as usual with Tamiya first rate and easy to follow.
I have to confess to not having built a 48th scale kit for many years finding them fiddly and to be honest not very good. This is my experience from many years ago. On a visit to a friend in Leeds we inevitably end up in a model shop and on this particular visit he suggested having a look at the latest Tamiya 1:48th kit of the 38(t). After some protestation I actually looked at the kit, as this is one of the tanks I like and first impressions were, "wow look at the detail". Hooked! Needless to say I walked out with it and started to build it that night.