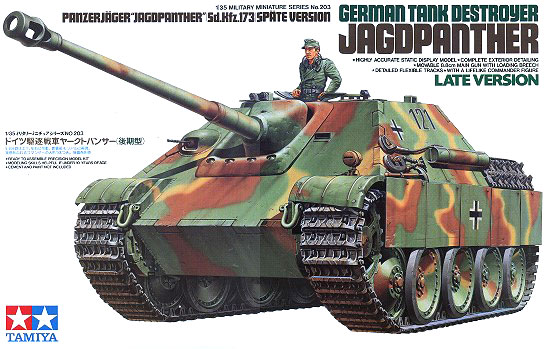 Feature Article by Bill Curtis
A little bit of background
During World War Two the Germans on the Eastern Front came up against heavier and bigger gunned AFV's. To counter this a new vehicle was needed and in August of 1942 Krupp was instructed to design a tank destroyer based on the Panther chassis that mounted an 88mm Pak 43 and a full size model was finished by mid November of the same year. October of 42 the production was handed to Daimler Benz but due to problems with Panther production the Jagdpanther was moved to Mulhenbau Industrie AG who also had a full scale mock up and a prototype was completed in October 1943. The first production vehicles ran of the line in January 1944 with a total of approximately 400 being built until the plant was captured in April 1945. The vehicle was well armoured with a superb gun and well liked by its crews but it came too late and in too few numbers to have much effect on the outcome of the conflict other than in local engagements.
This project
This project came into existence due to another which had come to a halt due to problems with the build. Looking around the stash for a quick build this Tamiya kit jumped out due to the expected ease of construction. The kit had been purchased at a show a good few years ago and had languished on a shelf awaiting the opportunity of a good scheme. After some thought the decision was made to change this to a late vehicle with all the tools moved to the engine deck and rear plate and as a copy from a German Tanker had been available it proved easy to be accomplished without spending a whole lot on extras.
Into the build
The fist part of the build was to fill in the locating holes on the upper hull and once this had dried, sanded flat. The lower hull and the axels were then assembled as per the instruction sheet. The rear hull plate was modified with the addition of tools and the exhaust stacks with flame dampers fitted. The rest of the tools were positioned on the engine deck and enhanced with the addition of white metal tool clamps from Sovereign many years ago. Availability of these is now uncertain.