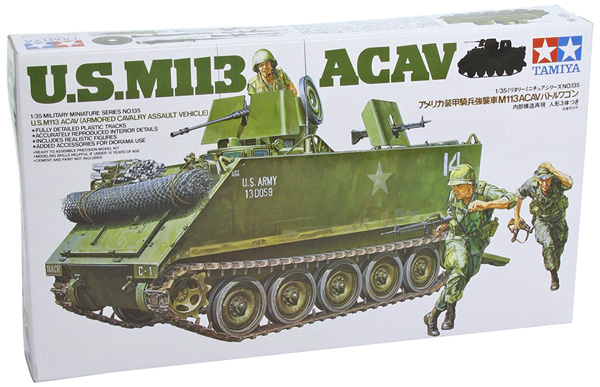 Feature Article with Bill Curtis
---
A note from Geoff C…
Now Bill has finished his project I thought you'd like to see how well it turned out – nice weathering Bill!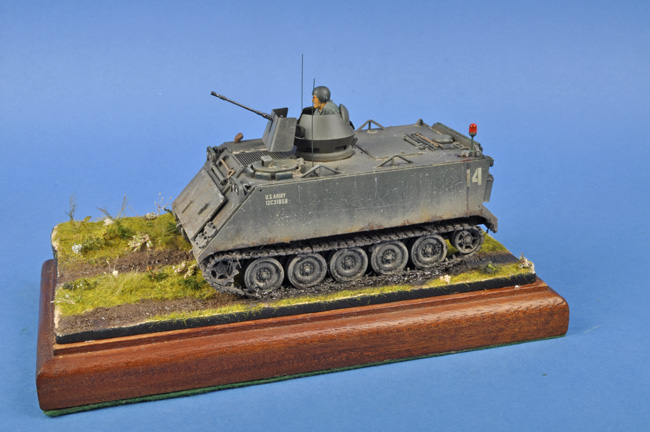 Over to you…
---
The M113 was a fully tracked armoured personnel carrier (APC) that was developed by the Food Machinery Corporation. The vehicle was first fielded by the United States Army's mechanised infantry units in Vietnam in April 1962 and was the most widely used armoured vehicle of the U.S. Army in the Vietnam War, earning the nickname 'Green Dragon' by the Viet Cong as it was used to break through the thickest jungles being used to attack and overrun enemy positions. It was known as an "APC" or an "ACAV" (armoured cavalry assault vehicle).
The M113 was manufactured from aluminium armour which made the vehicle much lighter and was thick enough to protect the crew and passengers against small arms fire but light enough that the vehicle could be air transportable. The U.S. Army had replaced it as a front-line combat vehicle by the M2 and M3 Bradleys, but large numbers are still serving in support roles such as command vehicle, engineer vehicle, mortar carrier and armoured ambulance.
The M113's versatility produced variants that survive worldwide, as well as in U.S. service. An estimated 80,000 M113's of all types had been produced and used by over 50 countries making it one of the most widely used AFV's of all time.
Kits
Several Tamiya kits had been released of the M113 between 1974 up to 2003 but the one that was secured for this project was No MM135 which was released in 1987. The kit has an interior but it was decided that the vehicle would be buttoned up with only the turret manned by one of the kit figures