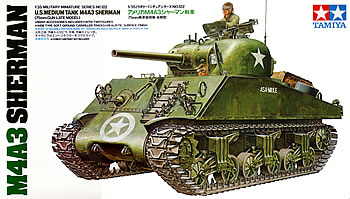 Short Feature Article by Steve Noble
"Sandbagging the Sherman"
Encountering superior German tanks and antitank guns, Allied tankers were soon looking for any additional edge they could gain in engaging the enemy. Only a limited number of Sherman tanks were suitable of matching their opponents. These were the M4A3E2 and modified 76mm Sherman tanks. The modified vehicles were M4A3(76)W and M4A3(76)W HVSS being equipped with heavy armoured plate similar to that on the M4A3E2 and used within the American 3rd Army. These vehicles are now commonly referred to as the "Jumbo" and "Expedient Jumbo". Articles detailing these vehicles can be found within the website.
Where no high level organisational plans were in place, local units chose a number of initiatives and took to adding a variety of forms of additional protection to supplement its armour. This included sandbags; logs; cementing over the hull and welding on additional steel plates and spare track links. While all offered some degree of protection against infantry antitank weapons they provided only limited protection against antitank shot. For the tankers, even a small gain was of value.
Model 1 – Starting the Build
The following article describes how additional protection was added to two models. Set in different dioramas, both employ sandbags as additional armour. For those wanting a simple build, the sandbag element of a Verlinden kit was used in the diorama "Sniper!" Using the Tamyia M4A3 as the base model, spare track links were also added as armour on the kit.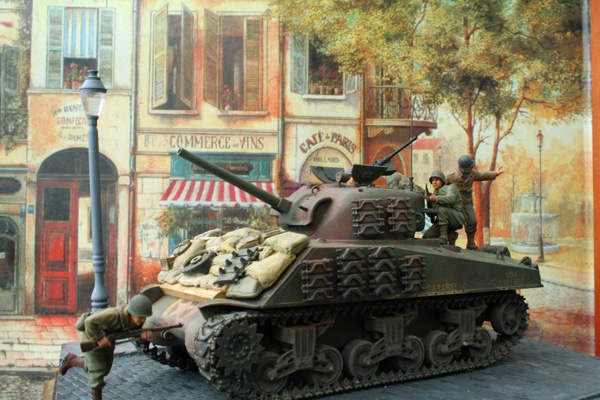 "Sniper!" shows a Sherman crew and supporting infantry coming under fire while seeking cover behind the turret and searching for the hidden sniper
The diorama used a previous completed Tamiya M4A3 model. Built as per kit instructions and fully painted it had been used in a previous diorama. It never lived up to its promise so the decision was taken to reuse it and to try to improve it by adding the sandbag element from Verlinden update/stowage kit number 1808.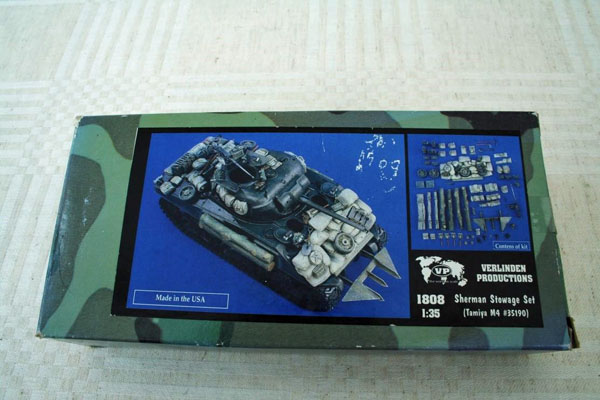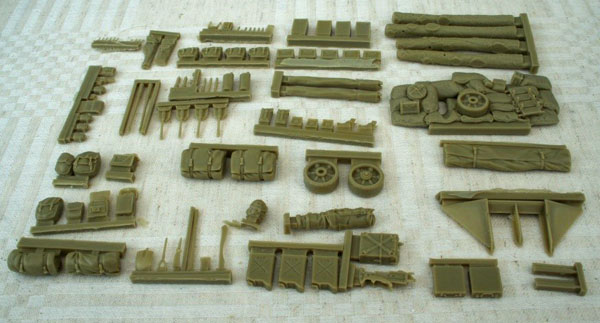 The kit provides a large number of elements but only the sandbag section for the glacis plate was used. To allow this to be fitted, all of the fittings on the glacis plate of the model had to be removed to give a smooth surface to fit the sandbag section. This was done with a sharp craft knife.