Special Feature Article
by Steve Noble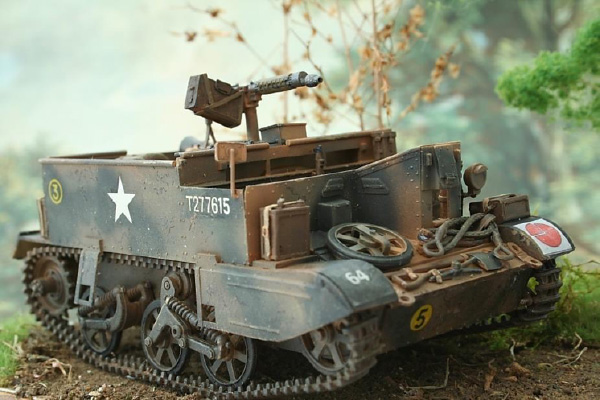 Give No Ground
Using the 40 year old kit from Tamiya of a Universal Carrier Mark II, I wanted to improve the look of this kit without a large financial outlay. Tamiya's kit by today's standard is a bit clunky but still forms a good basis for the planned build. The plan was to convert the model to a Vickers machine gun carrier.
Resicast were kind enough to supply parts for the Vickers machine gun and its mounting. The aim was to improve its appearance by the addition of the prominent machine gun. Existing parts were thinned by filing down visible edges in order to appear thinner. The addition of spares/stowage was used to hide areas where detail was poor or unrefined.
Before starting the build, consideration had to be given as to how to paint the cramped and exposed interior of the model. Three sub-assemblies were planned consisting of:
The main hull, running gear, crew and driver compartments
Frontal armour and glacis plates to allow access to the driver compartment
Engine housing onto which the Vickers heavy machine gun would be mounted along with stowage attached to hide areas of poor detail
The main weakness in the kit is the running gear and track. While resin replacement parts are readily available, the decision was taken to remain with the existing running gear and track to meet the low cost option. The accompanying photographs show the construction of the subassemblies and the modifications made on the final model.