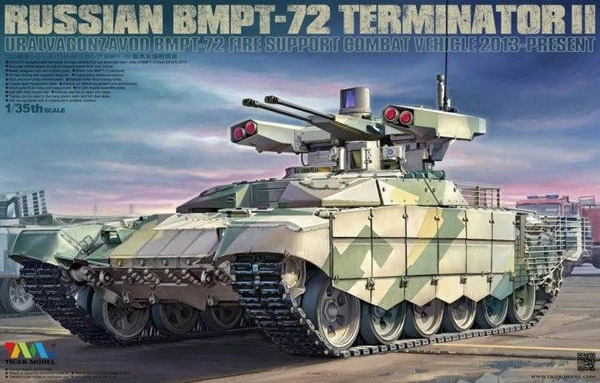 Full Review with Daniel Baxter
Just before we get going…
Here is a photo of my completed project – hope you like it!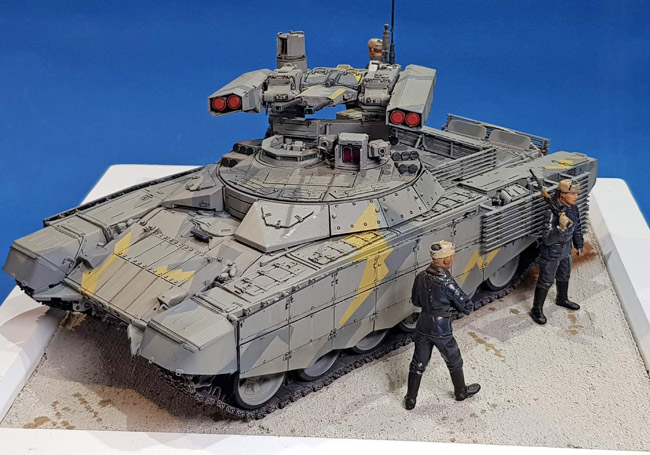 A little bit of background
In September 2013, Uralvagonzavod unveiled the latest armoured fighting vehicle at the Russian Arms Expo 2013 exhibition in Nizhny Tagil, Russia. This vehicle was identified as the BMPT-72 "Terminator 2" and was built as a successor to the BMPT. The "Terminator 2" vehicle is substantially similar when compared to its predecessor, and has been designed to operate alongside MBTs or independently. Unlike the Terminator 1 however, the Terminator 2 is a retrofit only package, with only old T-72s and similar being upgraded to BMPT-72 standard (no new build vehicles).
Terminator kits (correct at time of writing)
Available versions:
• Tiger models £60-£70
• Trumpeter £55-&60
• Zvesda £25-£30
So here is the 1st of the armour builds I promised Mr. Coughlin (lol GC)…
This for me is one of those futuristic looking armoured vehicles that just need to be added to the collection in the same vain as the Merkava. I'll be doing it in the scheme from the Uralvagonzavod KADEX in Kazakhstan 2014.
So what do we get in the box?/