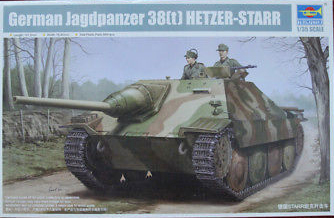 Feature Article with Chris McDowell
---
A note from Geoff…
I have to say that I'm really pleased to welcome Chris McD to the Sun review team – welcome Chris!
This is a fine start with Chris's excellent build of the Trumpeter Jagdpanzer 38(t) Hetzer Starr and as this isn't enough, you can look forward to further entries, both armour and aircraft over the coming weeks and so hold, on, I think you're going to love the journey following Chris's excellent modelling skills and like me, learning more and more from every one, as I do with all builds that feature in your SMN.
Here's a quick look at the completed project – nice! Very nice… :) Given that Chris says he has very little experience with building armour projects, I think what he's turned out is little short of incredible and respect to you Chris – great job by any standards!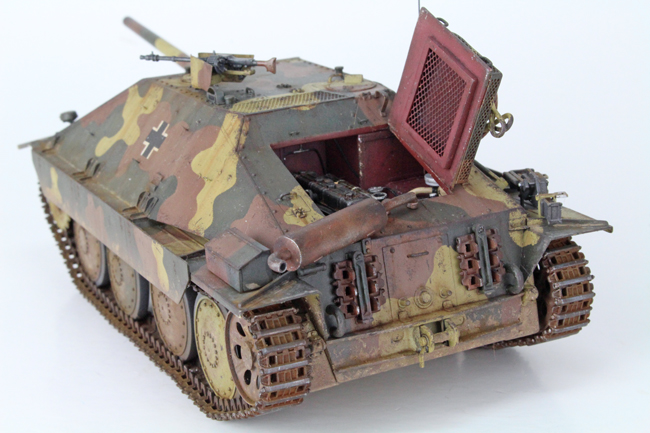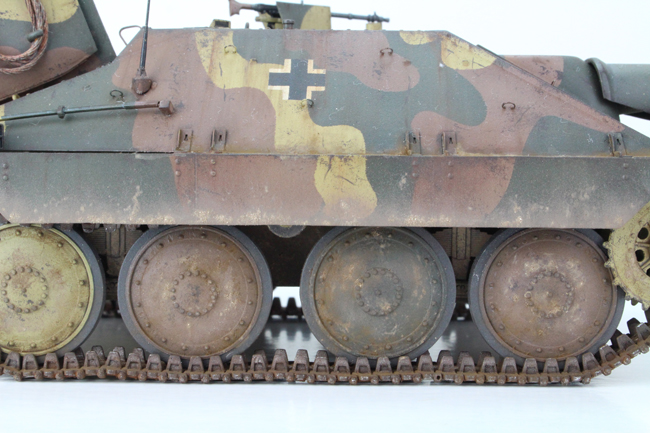 Over to you Chris…
---
The Jagdpanzer 38 (SD.Kfz, 138/2), later known as Hetzer ("pursuer/hunter"), was a German light tank destroyer of the Second World War based on a modified Czechoslovakian Panzer 38(t) chassis. The project was inspired by the Romanian "Maresal" tank destroyer.
The Jagdpanzer 38 was intended to be more cost-effective than the much more ambitious Jagdpanther and Jagdtiger designs of the same period. Using a proven chassis, it avoided the mechanical problems of the larger armoured vehicles. It was built on the Panzerkampfwagen 38(t)'s widened and lengthened chassis with modified suspension and up-rated engine. The chassis was modified in order to accommodate a larger gun and thicker armour than the regular Panzerkampfwagen 38(t) tank. Its combat weight was 16 metric tons (versus 9.8-tonnes for the Pz 38(t)) and it could travel at a maximum speed of 42 km/h. It was better armoured than the thinly armored earlier Panzerjäger, Marder and Nashorn with a sloped armour front plate of 60 mm sloped back at 60 degrees from the vertical (equivalent in protection to about 120 mm), carried a reasonably powerful 75 mm gun, was mechanically reliable, small and easily concealed. It was also relatively cheap to manufacture. (Source: Wikipedia)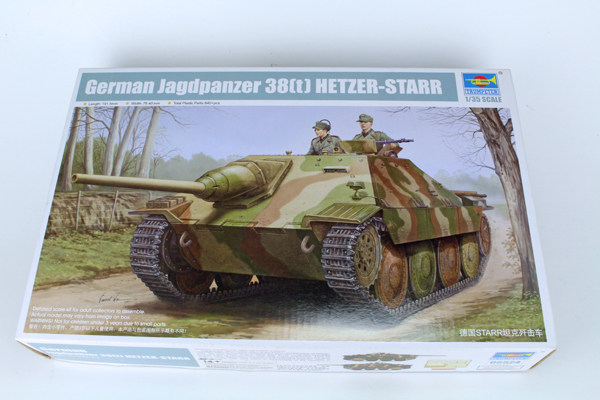 The Trumpeter kit
Trumpeter's Hetzer Starr was released in 2011 and comes in their usual sturdy open top box. The inside of the box has been separated by a piece of card to protect the larger hull/chassis sections and photo etch fret from the rest of the sprues. There are only four separately bagged sprues containing the majority of the build, this is due to the simplicity of the Hetzer as a support vehicle and as a 1:35 scale model.
The remaining sprues make up the individual track links, which also includes a small jig to help in the construction of the tracks. The sprues have been crisply moulded in a light tan plastic and are free of any flash. The moulded details look nice on there own, but are further enhanced by a small photo-etch fret for some of the more in scale details. Also included is some twisted wire for the tow cable.
The fighting compartment has been left empty, so leaving the hatches open is probably not going to work without some serious scratch building from the modeller. However there is a really nice engine complete with batteries, radiator and plumbing supplied with the kit as standard. Strangely though there is no way of showing this off without cutting open the engine cover! It's seems rather peculiar that Trumpeter have supplied no interior to the fighting compartment yet have given the modeller the ability to open the hatches, but have designed and supplied an entire engine, then proceeded to mould the engine hood firmly shut! So I made the decision early on that I was going to cut open the rear hatch and show off that impressive engine.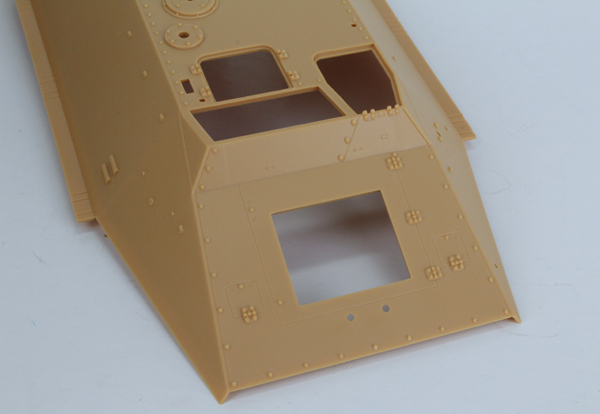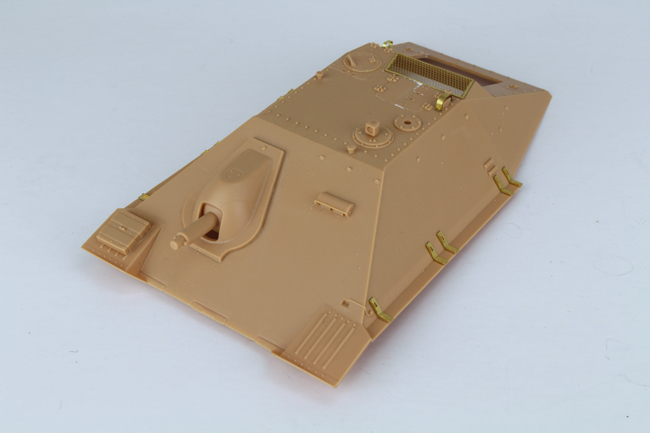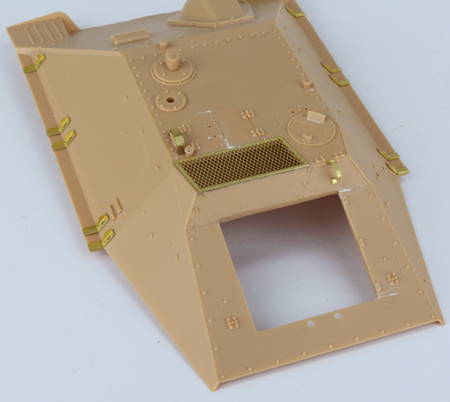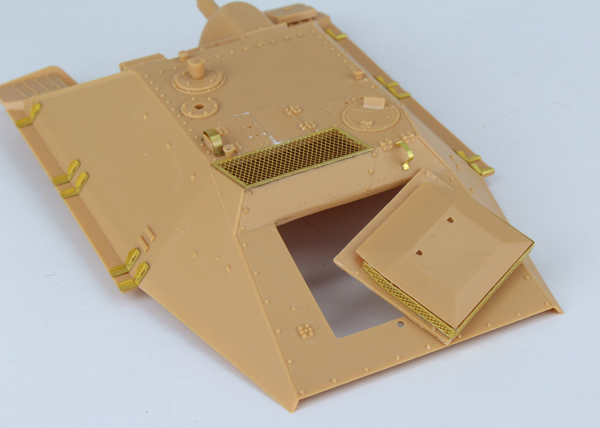 I think I should point out before I get into the build review itself that I am a bit of a novice when it comes to armour building. You can usually find me in the aircraft section of my local model shop (stop booing, we're all on the same team), but I fancied a little change. So hopefully this article will highlight some of the issues anyone new to armour modelling may face and anyone with a lot more experience (which is pretty much most people) can have a giggle at my newbie attempts.