Full resin kit
Review with Geoff Brown
Not only is this a brand new model, but it's also from a new player in town, MMM, (Model Museum in Miniature) http://www.themotormuseuminminiature.co.uk/ .
You may well have seen their display at some of the larger model shows around the country in the UK? A few of the models on show have been totally scratch built or modified from other kits.
Everything comes in a sturdy box with poly bags protecting the contents.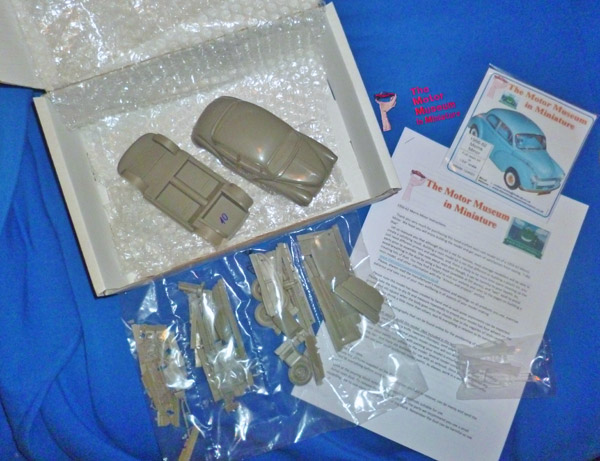 Although other model companies have in the past released models of classic British vehicles, before now, the classic Morris Minor has been totally absent. Thankfully MMM have now put that to rights. :)
Cast in a light grey resin, the parts are supplied on quite thick casting rails which need to be cut off and trimmed before starting the model. The body shell has the window apertures flashed over, a sharp modelling knife will soon have these removed.
This is a kerbside model, lacking any engine or gearbox, but it does come with the bottom end of both supplied as separate parts that need to be fixed onto the chassis plate.
The interior consists of the floorpan, side door panels, dashboard and front and rear seats – even those tiny little dash switches are moulded as separate parts. The exterior door handles, hubcaps and bumpers are supplied as resin parts and will need to be chromed, either using Alclad2 lacquers or another product that gives a realistic chrome appearance.
The wheels and tyres are moulded together, but there is a clear defined separation line between the two, so it will be easy to paint both without getting paint from the tyres onto the wheels.
There's no brand name moulded into the tyre side walls but they represent the older cross-ply tyres that the Minor would have been supplied with very nicely.
The front and rear screens and the side windows come supplied in clear resin, and due to the way resin has to be moulded are quite a lot thicker than regular styrene clear parts, but are just as clear. They can be polished to get them crystal clear.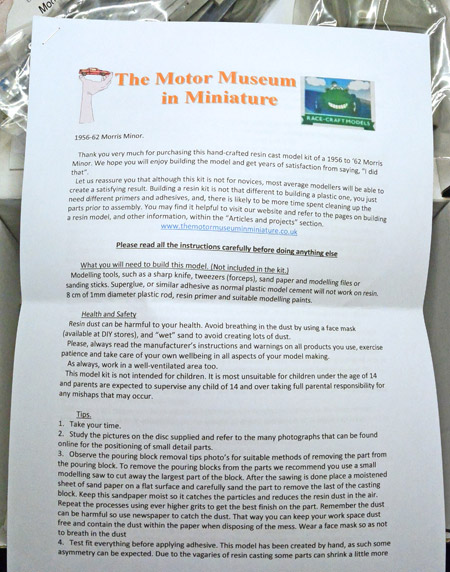 Instructions
The instructions come on A4 paper and a CD is also included with the kit showing the build up process in better detail using clear close up photographs.
This is the first kit from the Motor Museum in Miniature, but won't be their last as they are currently working on a Mk.1 Ford Lotus Cortina, again in 1:24th scale.
Geoff B.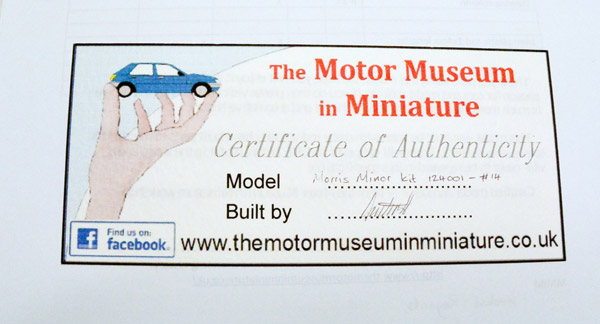 SMN Quick summary Star rating out of 5
| FEATURE | STAR RATING (out of five) |
| --- | --- |
| Quality of moulding | **** |
| Level of detail | *** |
| Accuracy | **** |
| Instructions | *** |
| Decals | None |
| Subject choice | **** |
| Overall | **** |
A little bit about the Morris Minor
The Morris Minor is a British car that made its debut at the Earls Court Motor Show, London, on 20 September 1948. Designed under the leadership of Alec Issigonis, more than 1.6 million were manufactured between 1948 and 1972 in three series: the MM (1948 to 1953), the Series II (1952 to 1956) and finally the 1000 series (1956 to 1971).
Initially available as a two-door saloon and tourer (convertible), the range was expanded to include a four-door saloon in 1950, a wood-framed estate car (the Traveller) from October 1953 and panel van and pick-up truck variants from May 1953. It was the first British car to sell over one million units and is considered a classic example of automotive design, as well as typifying "Englishness".