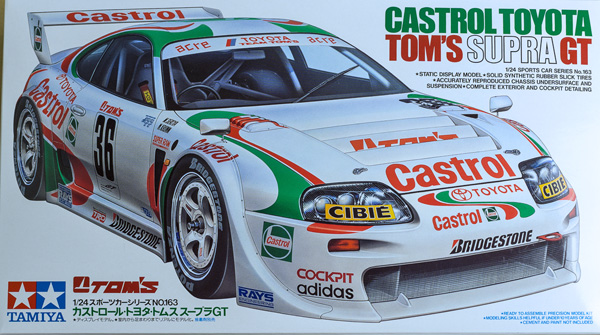 Review by Graham Thompson (February 2017)
At a recent visit to my local Hobbycraft store for a bottle of Tamiya clear yellow, this amazing box art caught my eye and for £20 (available a few quid cheaper at some online sources) I had to have it.
This is not a new kit, originally from the early 1990s, but this does not matter with these Tamiya kits. They are usually well engineered without being over engineered giving a good balance of a great looking result without the stress of over complex modelling. Keeps the price reasonable too.
This is what Tamiya have to say about the kit on their website.
The Japanese GT Car Championships were inaugurated in 1993, and are becoming more popular with motorsports buffs throughout domestic Japan. In addition to the highly modified Japanese cars, the super cars of Europe, like Ferrari, Lamborghini and Porsche, vie for the title.

During the 1995 season Toyota entered a fleet of their race tuned Supra GT's into this popular event. Packed into the Supra look alike body shell was Toyota's latest racing technology. A 2,140cc, 4-cylinder turbocharged powerplant was taken from Toyota's Eagle Mk.III racing machine, which was active during the '93 IMSA races in the U.S.A. The X-Trac developed sequential 6-speed gearbox efficiently transmitted this engine's awesome power to the rear wheels. Four wheel double wishbone suspension components were taken from another Toyota prototype racer, the TS010. The body shell was extensively modified to obtain even better aerodynamics. Additional air intakes and outlets, oversized fenders and a huge rear spoiler, gave its massive silhouette and even more aggressive appearance.

Four different racing teams used the Supra during the '95 season and among them, Tom's was sponsored by Castrol. Driven by skilled drivers Sekiya and Krumm, the Castrol Tom's Supra pleased the racing fans with its outstanding performance throughout the season."
On to the kit
This, like the motorbike kits I have been doing recently, is more about the painting and finishing than the build. Bizarrely, I am not that good with white finishes and I am not a fan of loads of decals so this kit is an odd choice for me. However, I will not learn these techniques by avoiding them so let's have a look at the kit.
Not a vast amount to the kit, two main sprues moulded in white plastic, a clear sprue, four chrome plated wheels, the main body shell four 'rubber' tyres (wider rear ones) a piece of plastic mesh, a set of poly caps for the wheels, tyre decal sheet and a huge decal sheet for the body.
The body shell is very nicely moulded with crisp detail like rivets where specialised body parts have been added on the real car. It also has moulded on bonnet(hood) pins but I will be replacing these with photo etch parts. There are separate front wheel arch parts which will need careful fitting but being Tamiya, I expect they will fit.
The bonnet(hood) has a large separate two piece central louvered air vent and two smaller vents closer to the windscreen. Other than that, the body is one piece.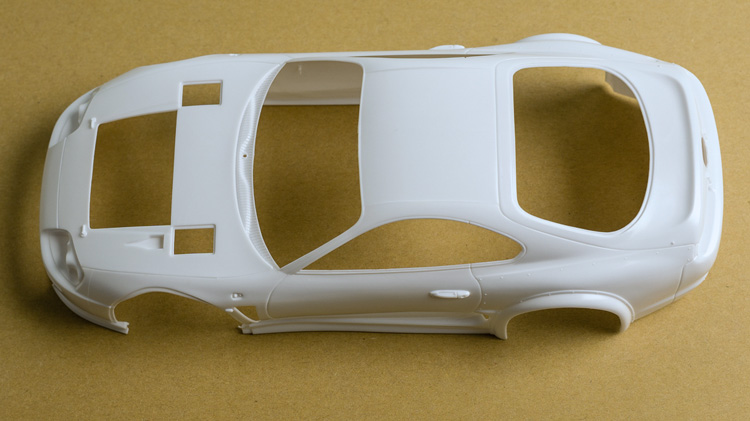 The smaller white sprue holds the above mentioned body parts and the roll cage, which has very minimal bur on it, amongst other parts.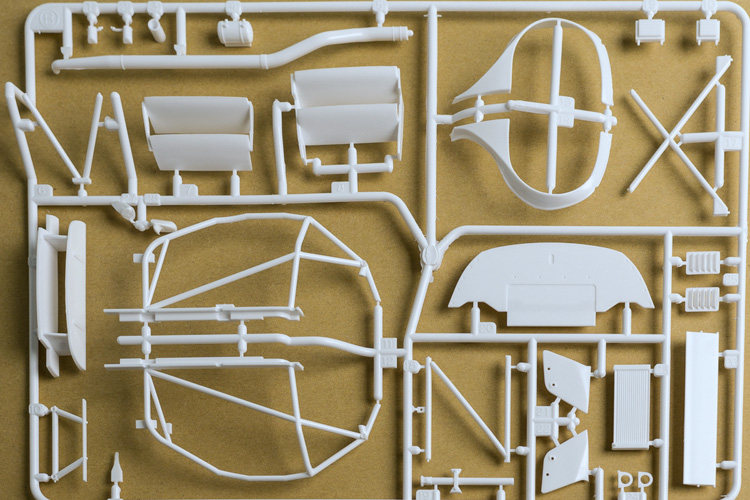 The larger white sprue has the body pan, suspension, exhaust, disc brake and transmission/suspension parts as well as the interior detail which is minimalist being a track car. Only one seat and very basic dash as per the real thing. The seat looks nicely moulded and has 'carbon fibre' decals for the sides and rear. It also has decals for the race harness. Not sure how much of this will be visible but it looks good. The engine is basic and will not be seen much so it is adequate.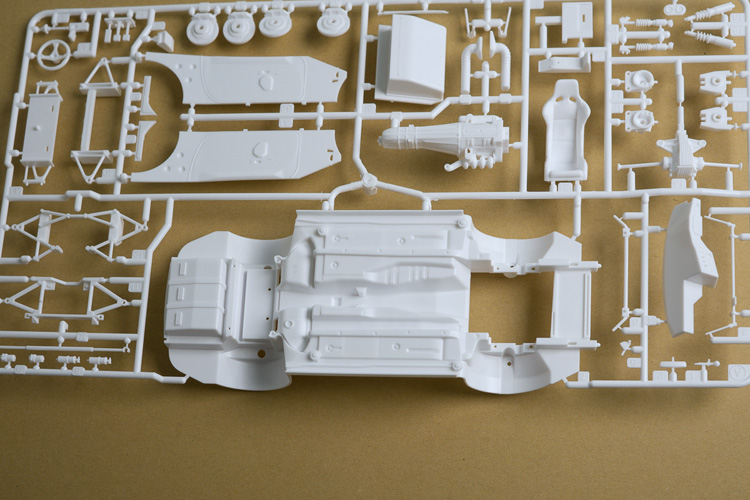 The clear sprue is nice and clear with minimal distortion. The windscreen and side windows are a single piece so needs to be handled with care as it looks quite fragile. There is a separate rear window with nice edge detail. The headlight lenses are nicely detailed. The rear light clusters consists of a four 'pin' light cluster per side to be painted, clear, two red and one orange for the reversing light, brake lights and indicator. These have an external clear lens over them.
Oddly, the wheels are chrome but the instructions call out a white wheel with a gold(ish) centre boss. I always strip chrome but if you wanted to use them as they are, they would look good.
A small piece of plastic mesh is for the front air intake grill and the two side vents to the rear of the front wheel arches. Not a fan of this plastic mesh so I may source an alternative.
There is also a set of special decals for the tyres. Never used these type of decals before so could be interesting.
The low profile slick tyres, wider on the rear, have a fine centre seam which will need sanding to remove. I like to sand slicks anyway to give them that realistic soft rubber look.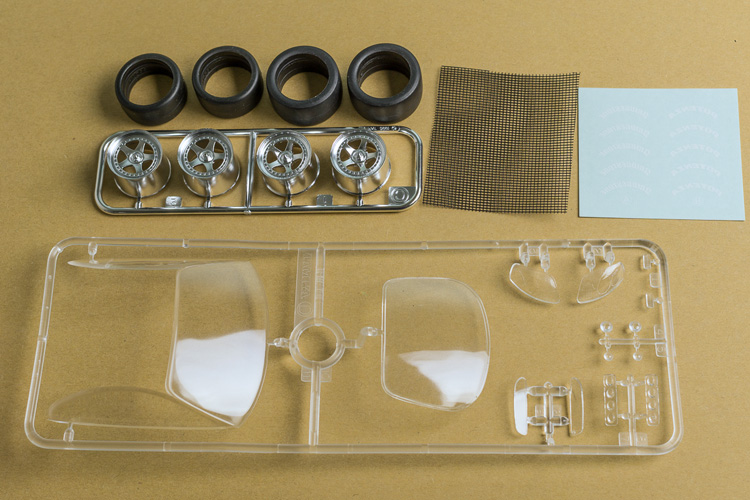 The large main decal sheet is nicely printed, good colour and is in register. It consists of at least a hundred decals from quite large to tiny. Should be fun getting the larger ones to settle over the body contours! They will lift the predominantly white car very nicely though.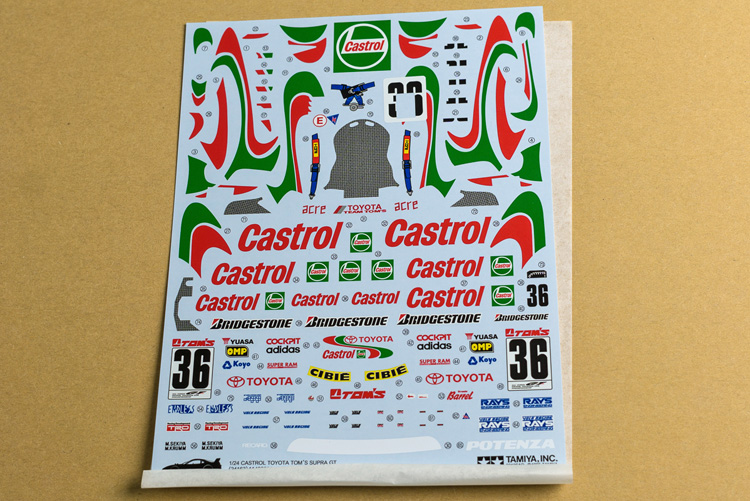 The instruction sheet consists of a single double sided sheet making up 10 'pages' with the construction of the kit covered in 15 stages. These are typical Tamiya instructions and show the construction clearly.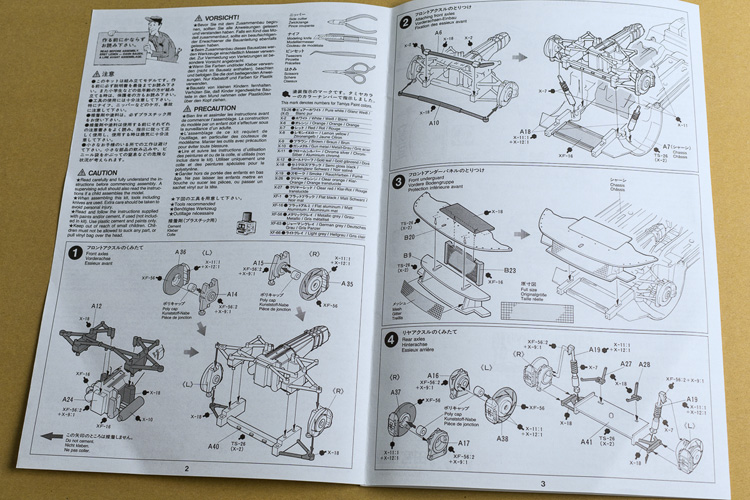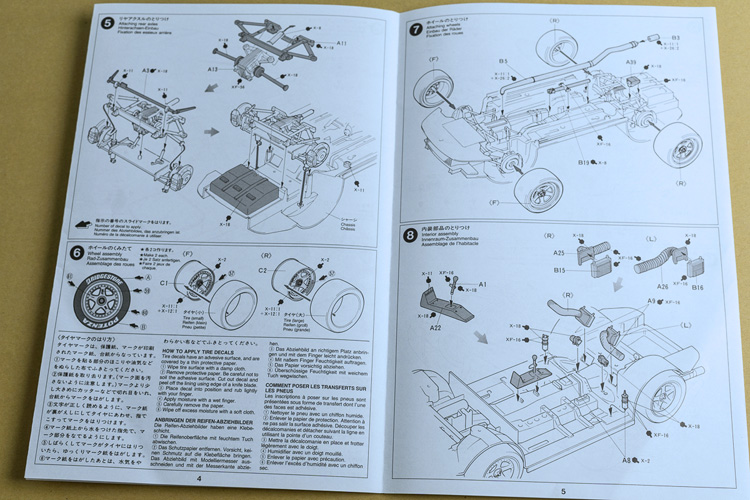 Conclusion
This looks a nice kit. It well suits my current modelling preference of a quick build with the main time and effort trying to achieve a good finish. I cannot comment on the accuracy of the kit as I have no information to compare it to. However, I know it will look the part which is my main modelling criteria.
The challenge will be getting a good finish as this, externally and internally, is just white. The decals will be vital in lifting this as will the quality of the body painting. I want the car pristine so no weathering will be done and I will be using Zero Paints 2 pack Clearcoat System for the first time – expect I may be stripping and re spraying this a few times until I get it right. You will find out soon if your Editor feels it worthy of inclusion in 'Scale Modelling Now' when I have built it (he certainly does Graham! Depending on when you read these words G's full build will be imminent in Vehicles-Build Now or, if completed, Vehicles-Finished Now.)
Graham T.
SMN Quick Summary Rating Out of 5
FEATURE
STAR RATING (out of five)
Quality of moulding
****


(simplistic in some areas but that could be due to the basic parts on the real car rather than bad moulding)

Accuracy
****


(it looks right!)

Instructions
*****
Decals
*****
Level of detail
****
Subject choice
****
Overall
****