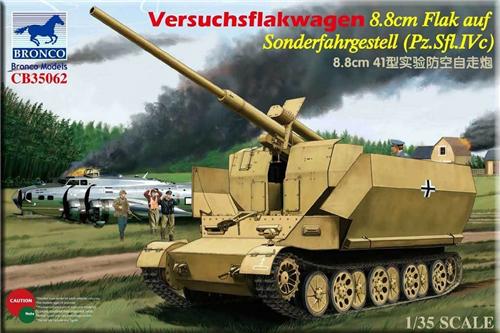 Kit Ref: CB35062
Feature article by Bill Curtis
Not a quick-build!
Looking at the plans and the number of individual components one realises that the Bronco Versuchsflakwagen 8.8cm Flak 41 auf Sonderfahrgestell (Pz.Sfl.IVc) 1:35 will be no quick build. In fact one could consider this, two kits in one, the tracked vehicle and the flak on top. It pays to study the drawing to get familiar with the various components and layout. One thing you may find useful is to copy the parts list page so you don't have to keep turning the booklet back to find where the parts are located.
Substructure first
So forward with the build, this starts with the substructure, which comes as a single tub. I always like these as it gives a good starting point to the vehicle negating the need to ensure those that come as separate flat parts to be checked and rechecked for being square. My first job was to cut off the torsion bars from the sprues and give them a cursory sand before fixing into place.
I decided to leave off some of the smaller parts such as the towing pins and retaining chain from the front units and put them on at a later time.
Engine housing
Parts 12 & 13 are two rectangular plates on the engine housing front and to get these items square I drew a pencil line on each fender using the upright parts as my datum points. This would enable me to get these parts dead square. I glued them in place and when I came to dry fit the top of the hull found they fouled the openings in this part. If I was to build this model again I would add these after the top had been fitted, putting a small piece of plastic on the fender top to stop any chance of it going in too far.