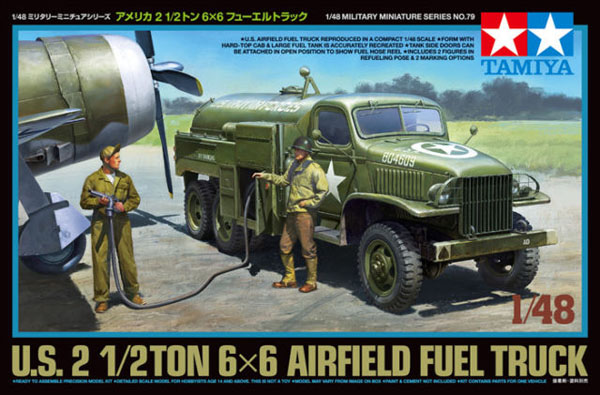 Kit Ref: 32579
Price around £17.99 GBP (June 2014)
Short Feature Article by Neil Pepper
Take a look at the Finished Model!
A little bit of background to the type
Almost certainly the 2 and 1/2 ton 6×6 truck was the most widely used transport vehicle for the US forces in World War II. Nicknamed 'The Jimmy' or 'Deuce and a Half' over 800,000 were produced, with the majority built by GMC (General Motors Corporation) who completed 562,750 examples during the war. By 1943, GMC were running continuous production shifts staffed mainly by women, twenty four hours a day, pushing out trucks from final assembly inspection on the production line at a rate of one truck every four minutes – some feat!
Developed from a civilian commercial truck type called the ACKWX-353 the military version came in two variants and was later adapted for a multitude of purposes. The two basic chassis models were the CCKW-352 with a 145 inch wheel-base and the CCKW-353 with the longer 164 inch wheel-base. To speed up production the all steel cab was re-designed as an open cab with canvas cover and this became the standard appearance by 1943. The cab area was often fitted with anti-aircraft protection in the form of a ring mount and .50 Calibre HMG. The standard cargo trucks were fitted with one of three basic body types: all steel, steel sided with a wood floor and all wood construction. Folding bench seats would adequately accommodate sixteen combat equipped troops although necessity often lead to overcrowding when moving large formations of troops.
Interestingly, the chassis could be fitted with a variety of different bodies which included:
fuel or water tanker
high-lift cargo for servicing aircraft
mobile workshops
blood banks for mobile hospitals
wireless and office bodies
bomb service for use on airfields
It was also used in the production of the innovative DUKW vehicle.
Interestingly, the GMC truck stayed in service after the war with many European armed forces. The French Army released their last 5,000 GMC 'Jimmies' as recently as 1985. Only then did they feel it was time to modernise and to find an improvement on this reliable, rugged military cargo truck. Many examples of the GMC CCKW-353 and -352 Trucks survive across Europe and can be seen running at the many summer vehicle shows around the country.
The CCKW-353 Truck was powered by a GMC 270 engine, producing 104 Brake Horse Power. Its maximum speed was 45mph, and the front axle could be disengaged for travel on tarmac to improve on mpg ratings.
Dimensions: Length 21ft 4.25 inches, Width 7ft 4 inches. Height 9ft 2 inches.
Reference…
There's a good photo walkaround set of photos for the 6X6 in the SMN Photo Reference Library here.