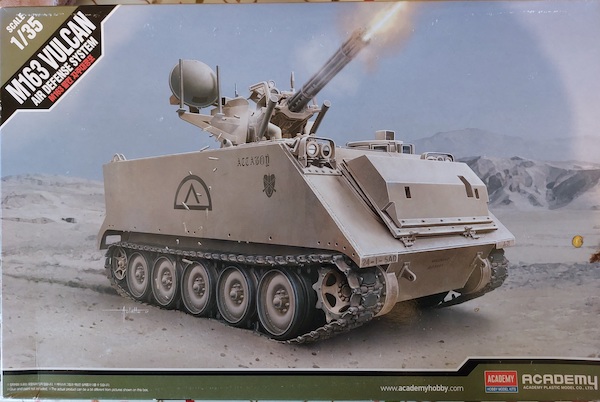 Full Review with Rob Ruscoe
And just before we get started, here's a look at how it all turned out…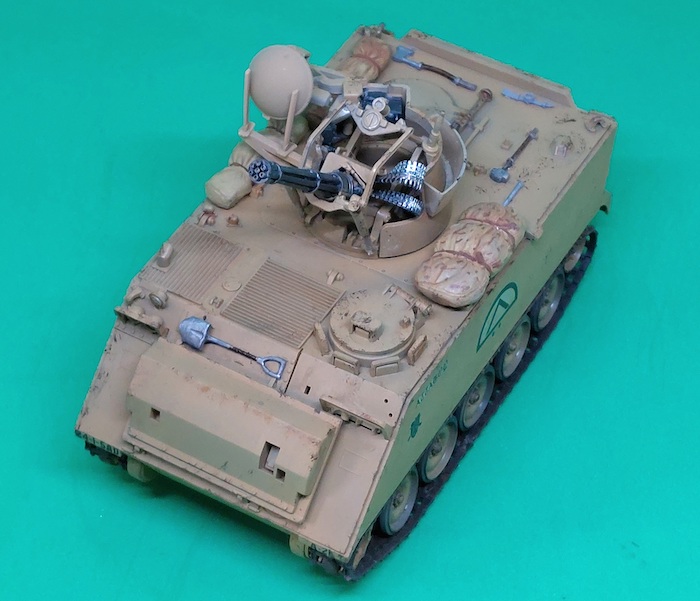 The M163 VADS is a self-propelled anti-aircraft gun that was used by the US Army between 1968 and 1994. Mounted on a modified M113 vehicle, the M168 gun is itself a modified version of the M61 Vulcan rotary cannon, the standard weapon in most US combat aircraft since the 1960s. Powered by a 212 hp, General Motors six cylinder two stroke diesel engine, the 13 ton vehicle was capable of a top speed of 40 mph. The gun could be burst fired at a rate of 3000 rounds per minute or in a continuous fire mode at 1000 rounds/pm.
The M163 had a fairly limited range of only 1200 meters and additionally the radar was a range only set incapable of finding targets. For this reason, the VADS has rarely been used for its intended purpose of defending against aerial threats and instead was utilised as a ground support weapon. The last combat action for the M163 was the 1991 First Gulf War.
The Academy kit
This is a re-issue of Academy's original 1995 kit and is based on their M113 APC tooling. Because of this you will find a plethora of extra parts, relating to the APC, in the box. The top opening box has some nice artwork depicting the vehicle in a desert setting, firing its cannon at some unseen aerial target. Opening the box we find ten sprues of tan plastic exhibiting nice flash free detail, a single piece hull, a small PE fret and a single decal sheet. The single, folded sheet of instructions, at first glance, seemed adequate and offers a choice of three versions. Colour call-outs are for Humbrol, Aqueous Hobby Color, Mr Color, Lifecolor, Testors/Modelmaster, Revell and Vallejo.
The extra M113 parts include three figures, backpacks, side arms and tarpaulin/camouflage packs which can be utilised in the build if desired.