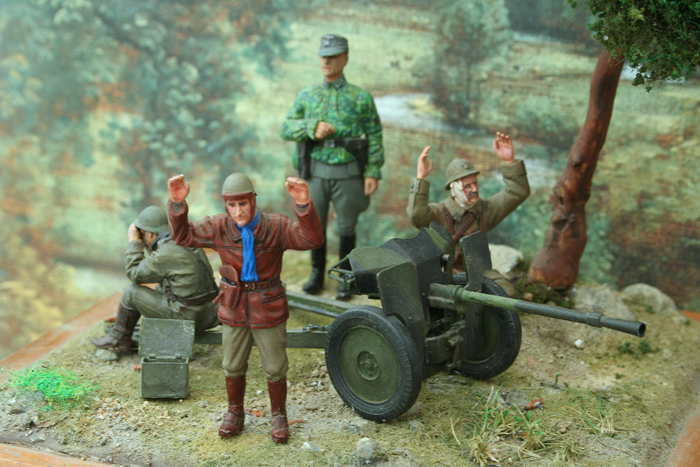 Short Feature Article by Steve Noble
The Story
During the Blitzkrieg attack in France, the French armed forces and government were surprised by the speed of movement of the German forces. With Paris coming under threat in a few weeks, the French Government decided to capitulate rather than risk destruction of the capital.
The end came with the French forces giving up in both shock and despair when the government called for an armistice. Pockets of resistance still fought on bravely against the onslaught but were picked off piecemeal.
The vignette portrays an example of this where a tank-man, infantry-man and artillery man have fought together as a crew until running out of ammunition. With the armistice in place the only option is to give up in despair and capitulate.
The Model and Figures
The centrepiece of the vignette is the M1935 25mm anti-tank gun produced by Hotchkiss and modelled here by Heller. The choice of figures was important to bring the scene alive. From the manufacturer SKP came two figures: the artilleryman sitting on the trailer legs, head held in despair accompanied by the infantryman cross-legged with a bandaged head, arms raised in surrender. A tank-man from a set of Dragon figures completes the trio.
The positioning of the SS officer produced by Chota Sahib shows the presence of German forces around the gun. By placing the French troops all facing outwards infers activity outside the limits of the model base as their captors close in.
Heller Classic
Despite its age, the kit from Heller produces a reasonable replica of the anti-tank gun. The model was painted as three sub-assemblies. The first was the axle, trailer legs and wheels. Assembly throughout was straightforward.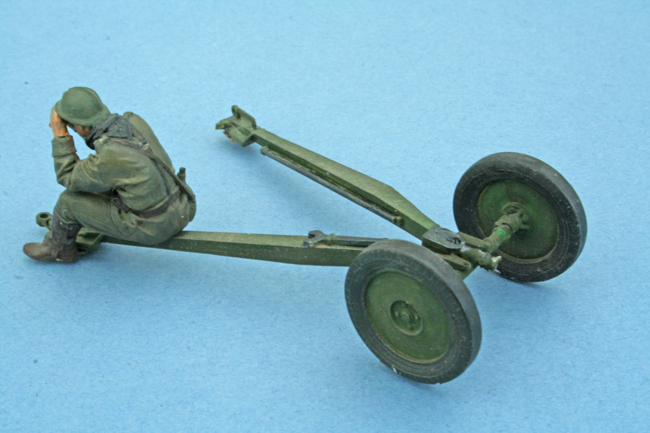 Next came the gun with sight, breech block, centre shield, elevating gear and shoulder pad.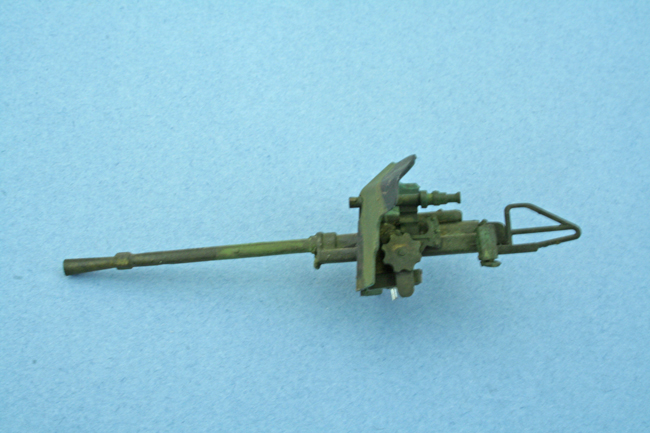 The final sub-assembly was the side shields.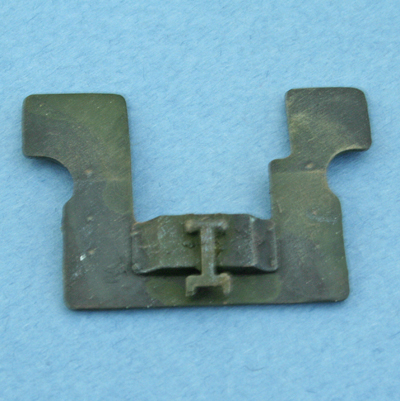 The assembly needs care that the shield aligns to form a horizontal run, otherwise the build is uncomplicated.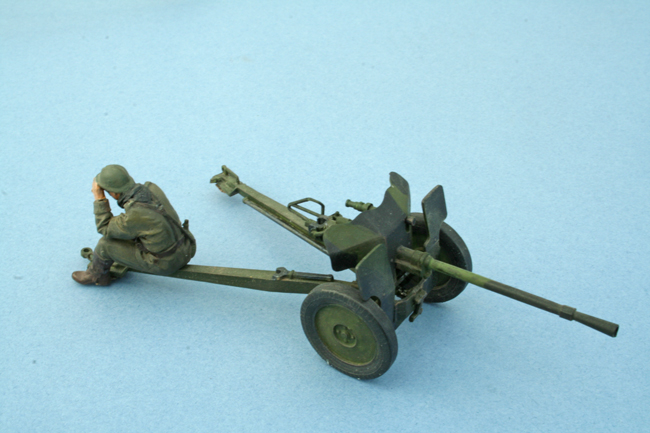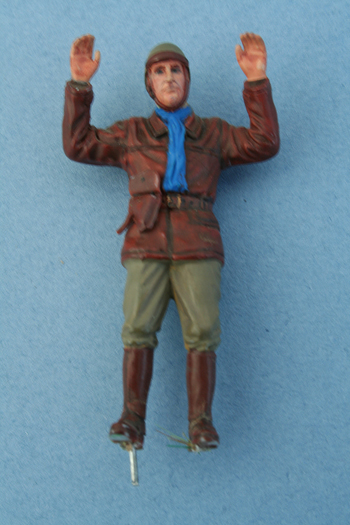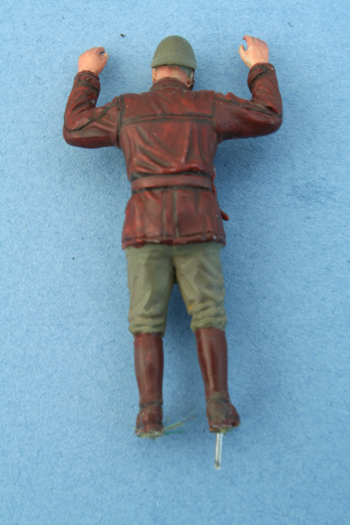 The Dragon figure was painted in Tamiya acrylics with the leather jacket finished with oil paint. All other figures were completed in acrylic paint.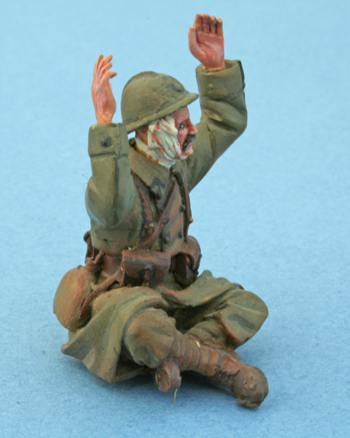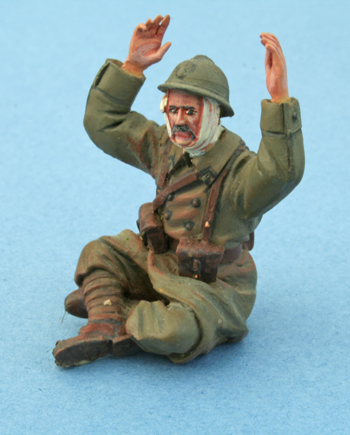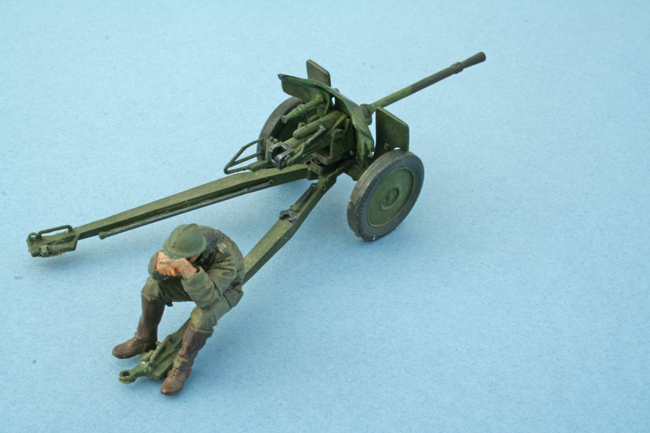 The Base
The base consists of a layer of plaster topped with sieved fine earth that had been sterilised in the oven. The tree consisted of a wire frame covered in a PVA glue/plaster mix with railway modelling flock to finish it. Static grass and stones were added.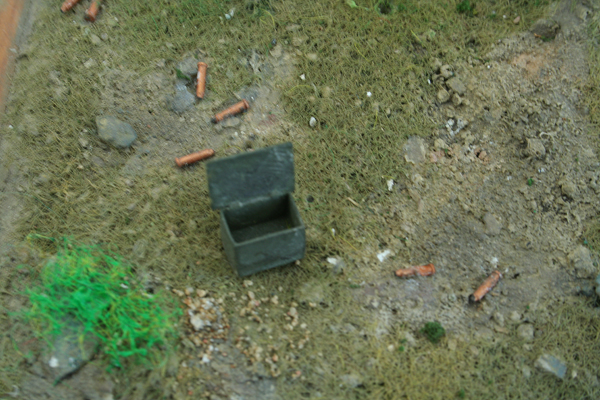 The empty ammunition box and spent shells can be seen littering the ground.