Full Review by Dave Coward
See the Here Now box review of the Tamiya WWI British Tank Mk.IV Male 1:35
A note from Geoff
I thought that you'd like to see a couple of photos of Dave's completed Mk.IV and here they are – you'd never know that this is only Dave's second armour kit build! Great job ☺.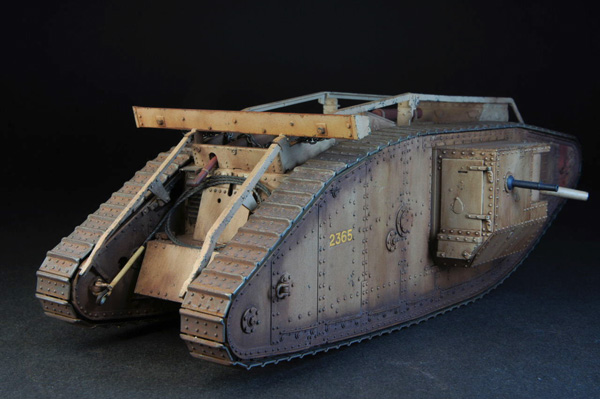 Background
From late 1914 a small number of middle-ranking British Army officers tried to persuade the War Office and the Government to consider the creation of armoured vehicles. Amongst their suggestions was the use of caterpillar tractors, but although the Army used many such vehicles for towing heavy guns, it could not be persuaded that they could be adapted as armoured vehicles. The consequence was that early tank development in Great Britain was carried out by the Royal Navy.


As the result of an approach by Royal Naval Air Service officers who had been operating armoured cars on the Western Front, the First Lord of the Admiralty, Winston Churchill formed the Landships Committee, on 20 February 1915. The Director of Naval Construction for the Royal Navy, Eustace Tennyson d'Eyncourt, was appointed to head the Committee in view of his experience with the engineering methods it was felt might be required; the two other members were naval officers, and a number of industrialists were engaged as consultants. So many played a part in its long and complicated development that it is not possible to name any individual as the sole inventor of the tank, though the British Government later made proportionate cash awards to those it considered to have contributed. Their first design, Little Willie, ran for the first time in September 1915 and served to develop the form of the track but an improved design, better able to cross trenches, swiftly followed and in January 1916 the prototype, nicknamed "Mother", was adopted as the design for future tanks. Production models of "Male" tanks (armed with naval cannon and machine guns) and "Females" (carrying only machine-guns) would go on to fight in history's first tank action at the Somme in September 1916. Great Britain produced about 2,600 tanks of various types during the war.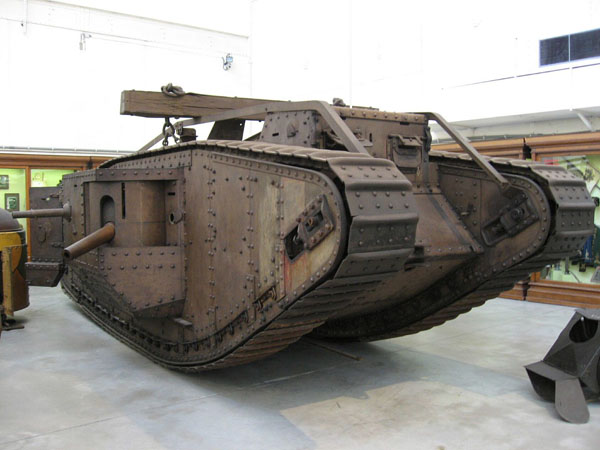 The first tank to engage in battle was designated D1, a British Mark I Male, during the Battle of Flers-Courcelette (part of the wider Somme offensive) on 15 September 1916