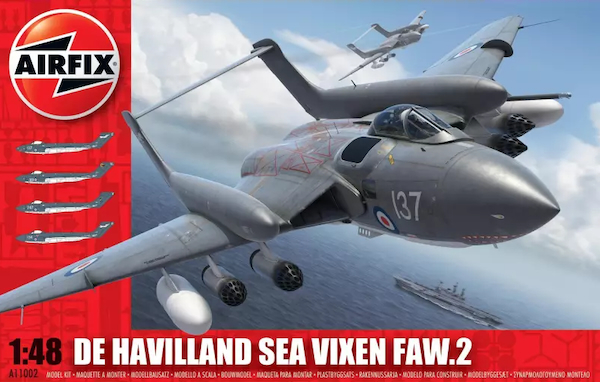 Feature Article with Rob Ruscoe
Just before we get started, here's a look at my finished project – very different in look to Geoff C's FAW.2 he built back in 2010…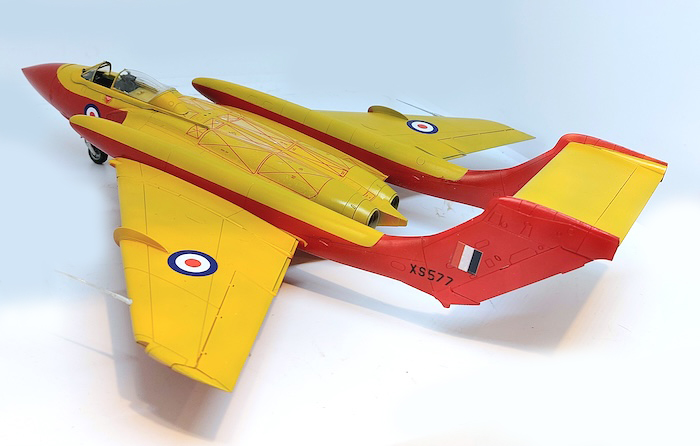 (Photo: My De Havilland Sea Vixen D3 Converted from the Airfix FAW.2 kit)
…and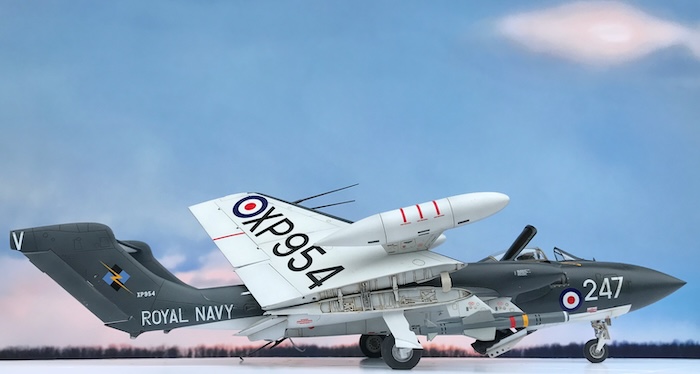 (Geoff's DH Sea Vixen FAW.2 – you can see that build here)
Background
In the early seventies, the MoD was looking to replace its Meteor drones at Llanbedr with a more modern aircraft. The Royal Navy's, soon to be retired, Sea Vixen FAW2 was the obvious candidate and Flight Refuelling Ltd was awarded the contract to convert twenty of these aircraft to D3 drones. FR had already carried out the conversion of the original Meteor drones but, while this work was a bespoke installation, MoD wanted a different approach with the Sea Vixen – something which could be utilised in another airframe in the future. FR therefore designed the Universal Drone Pack (UDP). This pack contained all the avionic modules in one rack which was designed to slide mount on the ejector seat rails in the Observer's position. It was envisaged that the same pack could be used in a Lightning or Phantom in the future, although, the thought of an un-piloted Lightning whizzing around Mid Wales is slightly worrying to me.
The first batch of eight FAW2s arrived at FRs airfield at Tarrant Rushton in 1972. XN657 was the lead conversion and, along with XS577 and XP924, was used for all the test flying. All the flying was carried out with a pilot on board but he was able to reproduce the remote commands by using a push-button matrix mounted on top of the instrument panel. After refinement, the test pilot could fly a complete sortie, from take-off to landing, just using the push-buttons.
One of the pilots involved in the test program recently asked me if I could build him a model of one of these test aircraft. He initially wanted a 1:72 model but the fairly recent Airfix tooling in 1:48 was a more obvious choice, particularly as XS577 was one of the options in the kit, although, it turned out few of these markings were usable. The fact that I also had this kit in my stash had no bearing on the decision – honest!
After the test program, XS577 was mainly used for training drone pilots. After this the aircraft went into storage until 1996 when it was purchased by Phoenix Aviation who proceeded to break it up. The nose section did survive for a while at Bruntingthorpe but it has since moved on to a Swiss collector and its fate is currently unknown.