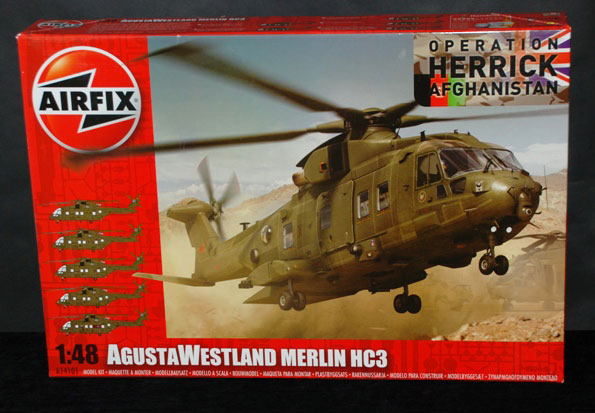 Full review by James Vaitkevicius
Our thanks to Airfix for supplying our review sample, get this kit here now at: www.airfix.com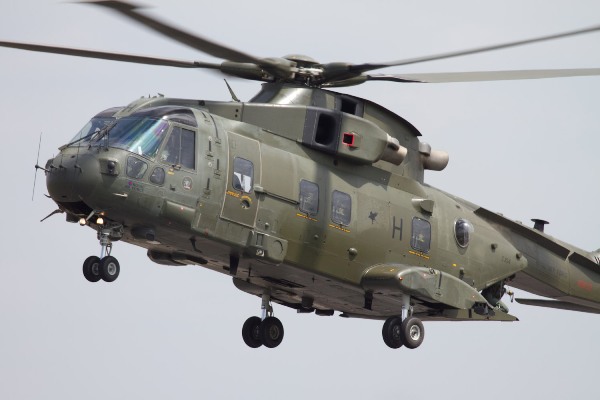 Introduction
So here we go with Airfix's latest helicopter, the AugustaWestland Merlin HC3. When Geoff announced today that he was looking for someone to build this, it took almost 10 seconds for me to get in first and for the other members of the review team, I am really sorry! So after a short journey to Geoff's office after work, the model was in my possession, opened up and on the kitchen table studying the four large grey sprues and the instruction sheets. I can hear you saying "he is keen!" and I suppose I am! My association with wanting to be the first to build this kit spans back to when Airfix announced they intended to release this. A few months later, Airfix were invited by me to our aero society branch at Marham; after seeing the test shots of both the Lynx Helicopters, conversation drew onto the Merlin. The kit itself has been long overdue with the first test shots appearing as early as the 2011 IPMS Telford (Scale Model World). Now in the early stages of 2013 the kit has finally been released to the masses.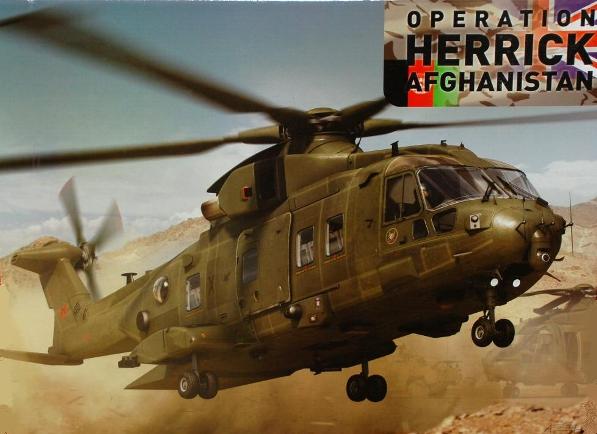 The first thing that strikes you about the kit even before you do anything is the size of the box, then immediately after the amazing artwork on the lid with a fantastic picture of the Merlin in action in Afghanistan where it is currently serving with the RAF. The box also includes 5 different schemes, all of which are the standard operational green colours.
Ever since the re-branding of Airfix, their branding and quality of product has gone from strength to strength and I have become a big fan of their products. The HN review has praised the quality of this product and I will not dwell too much into this review. So shall we kick off the build?