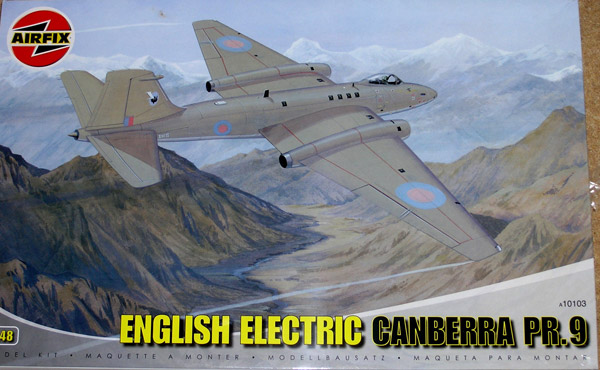 Feature Article with Geoff Coughlin
Initial thoughts and overall view
Many modellers were impressed when Airfix announced their family of Canberra releases in 1:48th scale some years ago. A most welcome choice and having built a couple of the Classic Airframes examples I was keen to see how Airfix has approached build sequence, options offered, decals and overall quality.
I did build this one a while back and I'm still happy with it now and so right up front here is a summary of what I found plus a photo of my completed model – then you can follow the full story:
The Pros:
Subject choice – long awaited; bold to go for significant re-tool from standard bomber versions to make PR-9 possible
Options – dropped flaps possible; wing-tip tanks; early and late versions; different subjects offered on decal sheet
Weighted tyres – significant as distinctive on parked Canberras
Sturdy undercarriage – holds huge weight needed to keep aircraft from tail-sitting
Panel lines – Generally accurate panel lining on wings and fin
Decal instructions – full colour and generally very accurate panel line detail and decal location offered.
The Cons:
Panel lines – Inaccurate placement of many fuselage panel lines
Rudder – over-scale engraving across whole rudder. Needs filing and gentle re-scribing or smoothing over
Decal sheet – very poor quality backing film / glue / adherence to model, rendering a great sheet in terms of detail, almost unusable
Cockpit detail – poor seat and inaccurate layout, although much of this won't be seen when canopy closed
Weight needed – not really a con to be fair, but if you think you've added enough weight, double it!