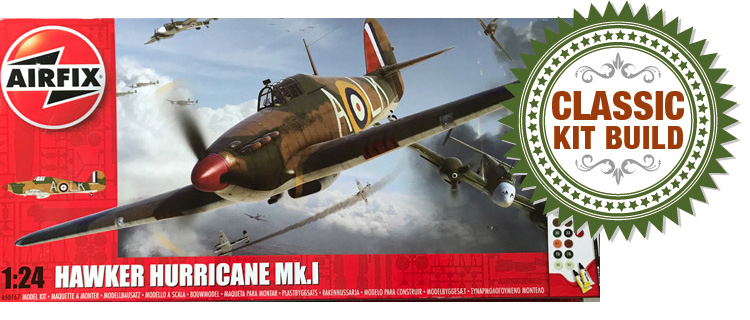 Classic Kit build project
with Geoff Coughlin


What's this project all about?
Please do look at the following video – this is exciting! :)
---
---
OK, so this is another in our SMN Classic Kit builds and what a classic kit! The 1:24 Airfix Hawker Hurricane must surely rank amongst the most popular and bought 1:24 scale kits – ever!
As you will have seen in the above video, the plan isn't to make the most detailed, perfect replica of this kit – that's not the point of this build. What is the point, is how can we encourage many more of you to go to your stash and get this kit out and build it to create a a good model that looks impressive and you'd be happy to put on any model table.
I'll be taking multiple HD videos and will drop them in all through the build to help show you what, why and how I'm doing what I do at every stage.
So often I have had conversations, usually with modellers at shows where we are exhibiting as SMN, and someone says that they have this or another big-scale kit and daren't start it. This is such a shame and often comes from a feeling that:
I don't have the skills to do it justice
I couldn't build to a standard I'd be happy with
I could never built it as well as 'X' has done
the list goes on…
Honestly, I know that it's perfectly possible to create a very good looking model building the kit very much from the box as supplied. Sure you can add accessories and aftermarket parts, we'll be adding a very few that I'll show you in a minute, but that's all. No need to go mad or get freaked out by taking on a big-big-scale model like the 1:24 Airfix hawker Hurricane Mk.I – far from it! This model is a lot less complicated that it might appear at first glance – good news!
The first steps – making a plan
This is a really important part of any project and especially important with a big model like this one. And it's very straightforward too, you just need to decide how you picture your finished model looking. Here are a few questions to help our thinking and I've added my answers for me and this build that's coming up. You may well of course have a different answer and that's perfectly fine, it just helps my enjoyment of any project to know exactly what I'm setting out to achieve, right from the off.
Without a clear objective in mind, there's a real danger we'll keep moving the goal posts and end up frustrated as hell and quite possibly with a partially complete model that gets lobbed at the wall or into the nearest bin – not good and a terrible waste!! :(