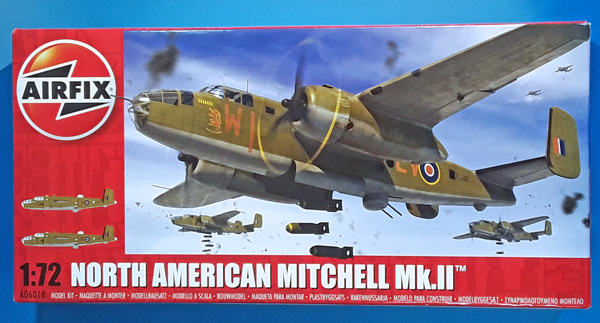 Full Review with Michael Scott
Kit Ref: A06018
How do we choose a subject to build and how does a subject become interesting to you? Is it the scale, is it the box art, is it the subject matter, is it a connection you have with the subject, is it a time history you are interested in?
Well, for me it can be all of these things. I am very fortunate in that Geoff asked me to build the RAF release of the Airfix 1:72 Mitchell bomber. On this occasion the "one from the above list" is a personal connection. My daughter in law's great grandfather is Thomas Burton Utterson. Thomas was a Sergeant Air Gunner serving with 226 Squadron as part of 2nd Tactical Air Force. Thomas was killed in action along with his crew on 26th November 1944 whilst attacking targets in Deventer area of Holland. He is buried alongside his comrades in Raalterweg Cemetery.
With Geoff's permission this build is going to represent Thomas's aircraft, FW230 MQ-B November 1944. I will be using a small amount of artistic license on this build as I have been unable to find any photos of this specific aircraft. I therefore have not been able to ascertain if there was any mission markings or nose art. Of the photos I have found of 226 Squadron Mitchell's some do appear to have nose art and mission markings and some appear not to. It is possible that MQ-B did have nose art and mission markings. Without 100% certainty I have decided not to add either. I will be using Xtradecal sheet number X72195 which includes markings for an aircraft from 226 Squadron at time of D Day. With a little cutting of the included serial numbers and the use of the code letter sheet I will be able to complete MQ-B.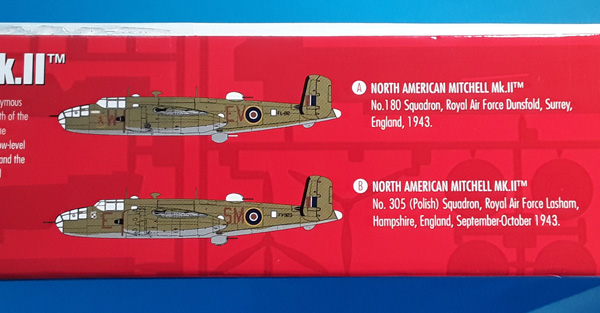 The Kit
This is the RAF Mitchell Mk.II boxing of the new mould Mitchell. It comes moulded in the familiar Airfix, slightly soft, grey plastic. Panel lines are nicely done along with some rivet detail. Decals cover two aircraft. 305 Polish Squadron RAF Lasham 1943 and 180 Squadron RAF Dunsfold in 1943. The instructions are very clear with easy to follow diagrams. The full colour A3 profiles and the A3 stencil placement diagram are a nice touch.