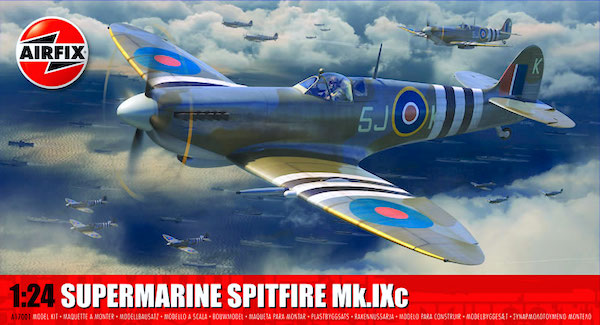 Feature Article with Chris Evans
Just before we get started, here's a look at how it all turned out…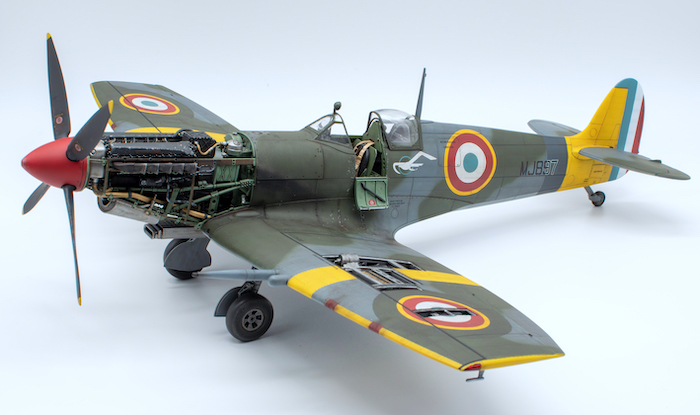 ---
A note from Geoff C…
We have multiple builds of this all new-tool kit from Airfix, some under construction and some completed and when done, you'll find them all here in Airfix-Finished Now.
You can see Rob Ruscoe's excellent build here.
---
Introduction…
Having built all of the newer Airfix 1:24th kits in the past, Mosquito, Typhoon, Hellcat, it was great news when a new Spitfire kit was announced, and a Mk.IX too. This was much needed for me, having built the original Airfix Spit and the Trumpeter Mk.V. These old kits are OK(ish!) but this new offering from Airfix is in a totally different league. First impression on opening the box was "WOW, this looks pretty nice!" and I wasn't disappointed.
Looking at the parts a little closer, there may be options for future variants to be released. Both large and small cord rudders are supplied, the rear of the fuselage around the tail wheel is a separate piece. This would allow a retractable tail wheel to be supplied on a later kit, along with the large cord rudder – Mk.VIII Spitfire anyone? That would be nice!
So, let's get started. The build was straight out of the box – well 99.9% out of the box anyway…!