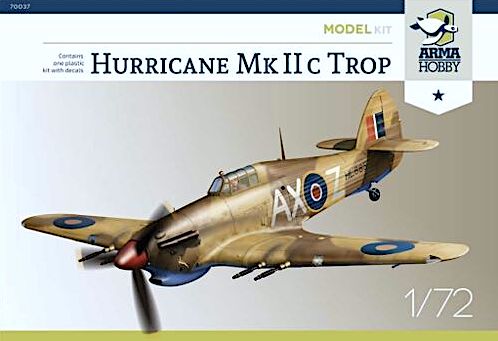 Short Feature Article with Manuel Magrinho
And just before we get started, here's a look at how the project turned out…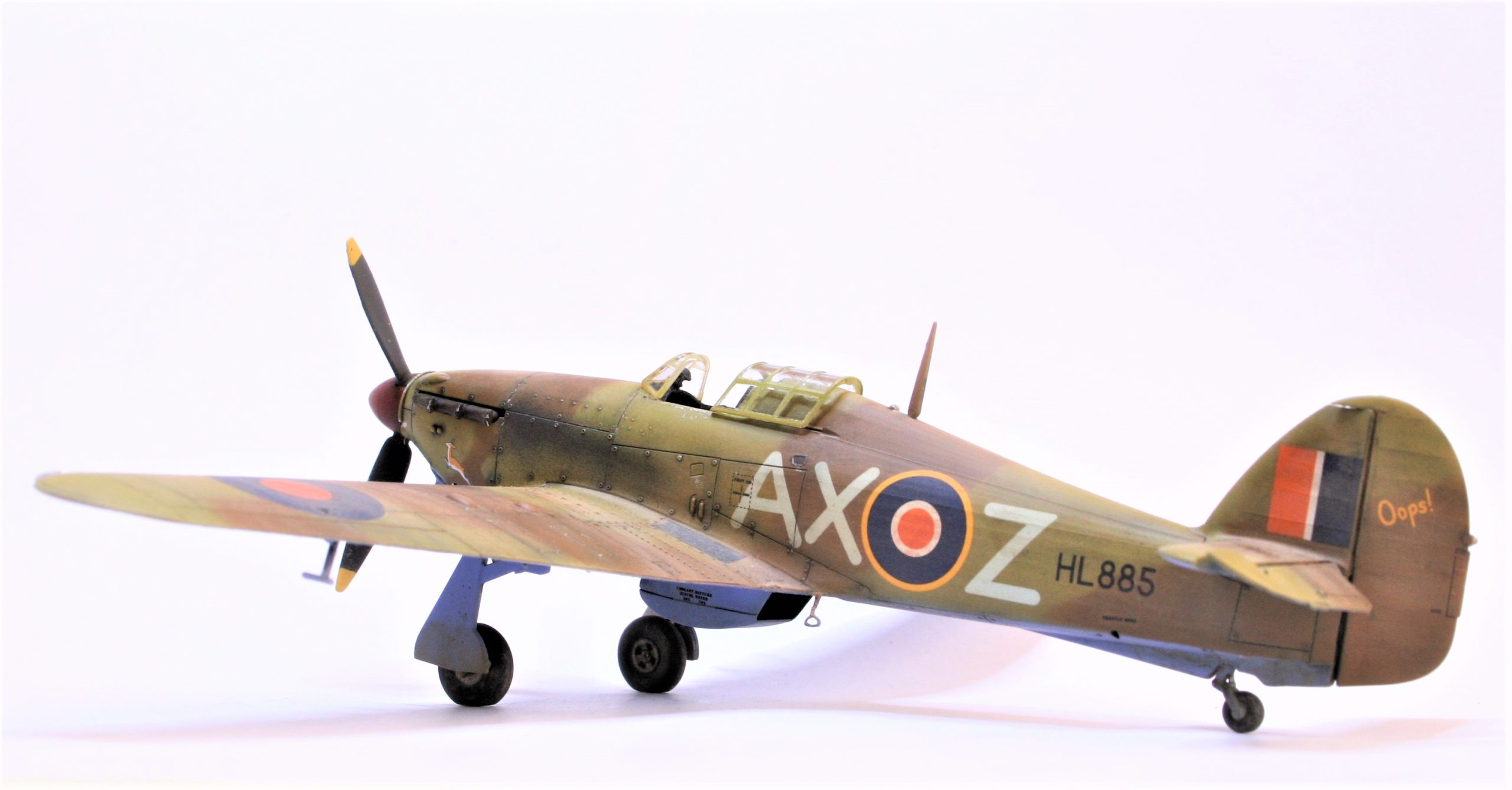 The Hawker Hurricane needs no presentation, so let's focus on this particular aircraft and its story, which inspired me to this build. As a matter of fact, it's quite the other way around… for some time I wanted to build a Trop Hurricane and then the great Arma Hobby kit appeared. Having all the stars aligned, it was the moment.
The kit came with the exact scheme I was expecting, and the manufacturer site has all the history. It was just a matter of building it. So, here we go:
(Adapted from the Arma Hobby site)
SAAF Squadrons in Operations
In the Second World War, South African Air Force (SAAF) squadrons sent to the Mediterranean theatre became part of the RAF order of battle. Their role was not usually a glamorous one, they were not allocated the latest equipment and, if we focus on the SAAF fighter squadrons in the difficult 1941–1942 period, their mission profile often put them at a tactical disadvantage against enemy fighters.
Eventually the SAAF units moved to Italy with the rest of the Commonwealth forces and received up-to-date equipment, but by then Axis fighter opposition had all but vanished.
After South Africa had joined the war on 6 September 1939, SAAF 1 Squadron, which can trace its history back to 1922, was initially sent to East Africa. There it had its baptism of fire against the Italians in June 1940. It was equipped with a mix of types, namely the Hurricane Mk I, the Gloster Gladiator and even the Hawker Fury biplane. In April 1941, it was first SAAF squadron to be transferred to North Africa, becoming part of 258 RAF Wing and flying the Hurricane Mk I. It was heavily involved in fighting over North Africa for the rest of 1941 and into 1942. It traded in its Hurricane Mk Is for Mk IIs in September 1941, but the latter were of the IIA and IIB variant, that is, armed with .303 machine guns.
Hurricane Mk.IIc
It was only in mid-September 1942 that the cannon-equipped Mk IIc aircraft finally arrived. To their surprise and possibly dismay, the South Africans discovered their IIcs were equipped with the inner pair of cannons only, the outboard Hispanos having been removed. Indeed, all the photos I have seen suggest SAAF 1 Squadron only ever had IIIc's thus equipped, but of course it cannot be ruled out that they had some machines with all four-cannon installed. The cannon- armed Hurricane did not stay long with the squadron. After less than two months' service it was gone, having been replaced by the Spitfire Mk V.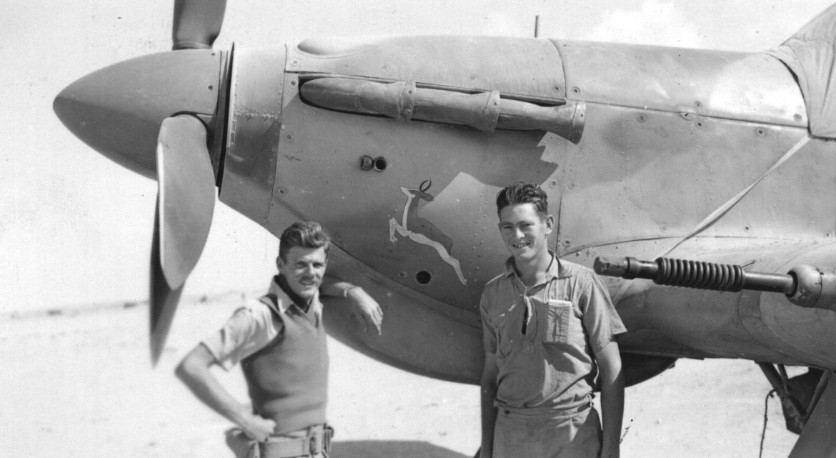 Markings of the HL885
When SAAF 1 Squadron was equipped with the Hurricane IIc, the official unit markings consisted of the code letters AX, usually applied in an unusual rounded type. According to aviation historian Steven McLean, author of the magnificent Squadrons of the South African Air Force, the usual colour for the code letters was not white but pale blue. This was pointed out to him by none other than 'Bomb' Finney, who remarked that that the man with the brush, responsible for painting the codes on their aircraft, was known as the 'Duck-Egg Blue Merchant'. Whether the code letters were always pale blue cannot be established from photos, of course.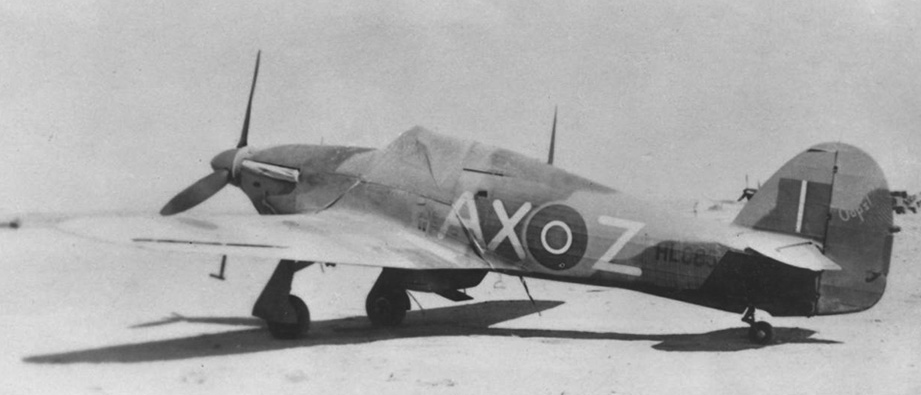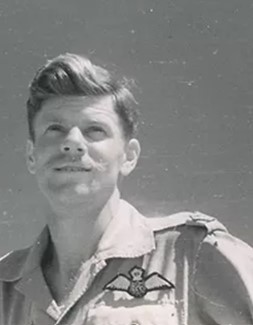 "BOMB" FINNEY
Stewart 'Bomb' Finney had joined SAAF 1 Squadron in November 1941 and stayed with it until December the following year. During the 13 months or so, he flew 143 missions in Hurricane IIb and IIc aircraft, as well as in Spitfire Mk Vs just before being rested. After a spell as a flying instructor, Finney flew another tour on Spitfires in 1943–1944 and ended the war with the rank of major. He earned his nickname 'Bomb' as a legacy of his pre-war work at a dynamite factory in Moddersfontein.
Lt 'Bomb' Finney's personal Hurricane IIc was HL885 AX-Z, named 'Oops!' on the rudder and sporting Springbok artwork on the lower port cowling. He flew this particular aircraft 24 times between 26 September and 4 November. On 19 October 1942, Finney's logbook records "a mild dice with 109s". Perhaps more significantly, he writes that "ack-ack was accurate and at times intense". There are photos showing damage to AX-Z, possibly as a result of the 19 October operation. Circumstantial evidence is offered by the next two entries. On the 23rd Finney first flew another Hurricane, HL627 AX-X, on ops, and then an air test in HL885, noting "'Oops!' now serviceable again"."
Major 'Bomb' Finney was a brave soldier, a hero, and a legend in his own right. He was popular amongst his fellow South Africans 'Up North' not only for his flying skills but also his leadership, particularly of No 1 Squadron SAAF in Italy.
Major Finney flew Hurricanes in the Western Desert from 1941 and completed three combat tours, ending as the commanding officer of 2 Squadron in Italy 1945, on Spitfires. Shot down and wounded in 1942, he was the recipient of the Distinguished Flying Cross and Bar, one of only fourteen SAAF fighter pilots to achieve this distinct honour.
'Bomb' Finney added to the lives of all who knew him with his endless curiosity, his sense of humour, patience and kindness. He was always dignified, respectful and courteous – a true gentleman – and, in turn, he was respected and honoured by his peers and the community at large. Under that unhurried, soft-spoken exterior was a man with iron resilience and lightning reactions. Post-war, he studied to become an engineer and had a long and successful professional career until his retirement. The nickname 'Bomb' was acquired when working for a munitions factory.