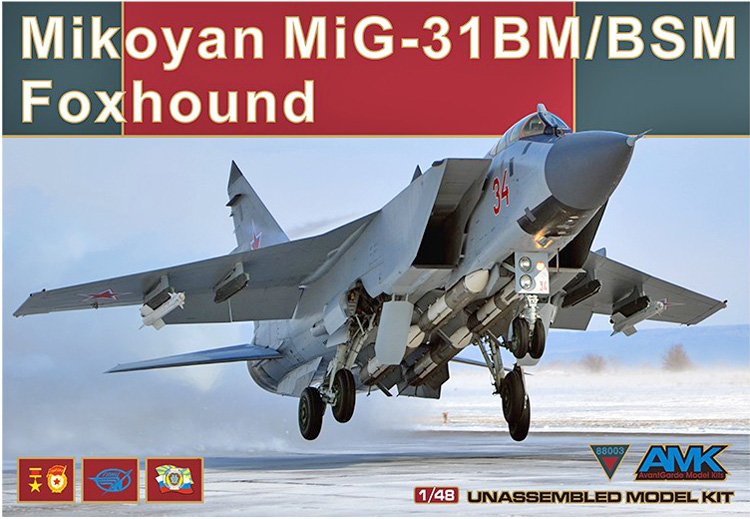 Feature Article by Dave Coward
Background
MiG-31 'Foxhound' is a supersonic interceptor aircraft developed in the late 1970s for the use with Soviet Air Forces. It is an evolution of a legendary MiG-25 'Foxbat' interceptor. After its first flight in 1981, it has entered the service in large numbers (more than 500 aircraft), protecting the vast borders of the Soviet Union. After the end of Cold War and breakup of the Soviet Union, the remaining aircraft continue to serve with the Russian and Kazakhstan Air Forces.
The MiG-31BM (and BSM in case of aircraft without in-flight refuelling capability) is an improved upgraded version of the baseline B version. It's radar's range is increased to 320km and its weapons computer can track 24 targets and simultaneously attack 6 of them. It has an improved datalink system, so it can interact not only with other MiG-31s but also with other fighters and surface-to-air missile batteries. BMs received new partially digital cockpits as a part of the upgrade. The most noticeable external differences between the B and BM is the rear-view mirror on the pilot's canopy and 4 smaller under wing pylons instead of 2 larger ones. MiG-31BMs do not carry R-40 and R-60 missiles anymore, but they are equipped with short-range R-73s (Archer) for self-protection and medium-range R-77s (Adder), along with the long-range R-33(Amos).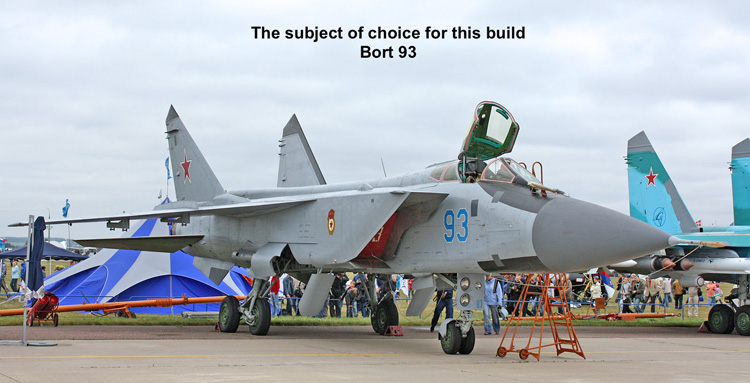 References used:
http://walkarounds.scalemodels.ru/v/walkarounds/avia/after_1950/MiG-31BM/
Aftermarket Extras:
• Eduard Colour PE Interior ED49752
• Eduard Brassin Wheels ED648248
• Begemot Mig-31 BM/BSM Decals 48-040
• Furball Aero-designs Mig-31 Canopy Framing decals 48-052
---
A quick note from Geoff…
Having seen Dave's completed model I just had to show you a sneak peek of it – wow! don't you just love that? I do… Here's his story…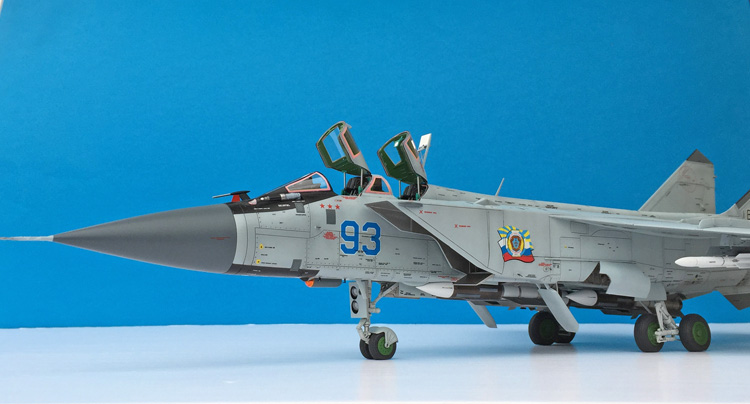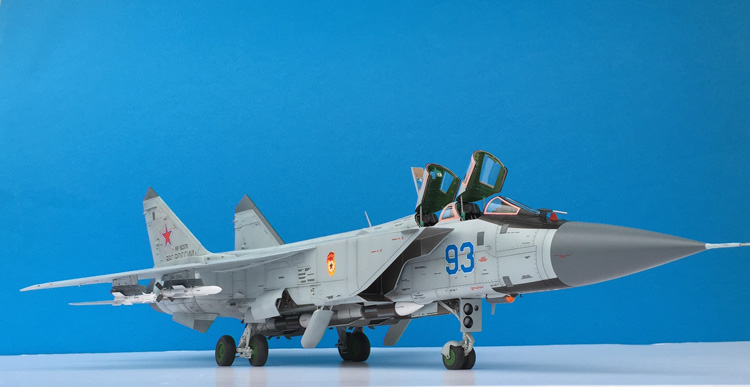 ---
The Kit
As ever you wait for ages for a certain kit to turn up in a certain scale and like buses two turn up together (well almost); this AvantGarde kit and the Hobby Boss offering. I haven't had a look at the Hobby Boss kit so can't comment on its attributes so I will stick to what I think of the kit I have in front of me – the initial Mig -31 release by AvantGarde (they also go by the name AMK).
The kit comes in a nice sturdy box with great box art. Upon opening the box, you immediately get that air of a quality product. The box is packed full to the top with a combination of multiple individually bagged sprues and several sub-boxes containing the front and rear lower fuselage parts, nose cone and the weapons. A quick look at the medium grey sprues shows excellent moulding quality with nice surface detail, no flash, small sprue gates and minimal ejection pins marks.
There is a small PE fret and the clear parts are contained on one sprue, an initial look shows these to be well moulded and crystal clear with no imperfections. There are two decal sheets, the first covering the main markings and the second the airframe and weapons stencilling. The instruction booklet is printed on good quality paper and the construction sequence seems logical and well-illustrated. My only negative point with the instructions are the pictures for the stencil placement aren't great, they are quite grainy and lack finesse. There are 4 decal options in the kit all of which are based around a standard grey scheme.
Before we get on with the build though I have to mention the unique aspect of this kit; the slide moulded parts. The front and lower main fuselages parts are one-piece mouldings as are all the weapons. – they really look impressive!!