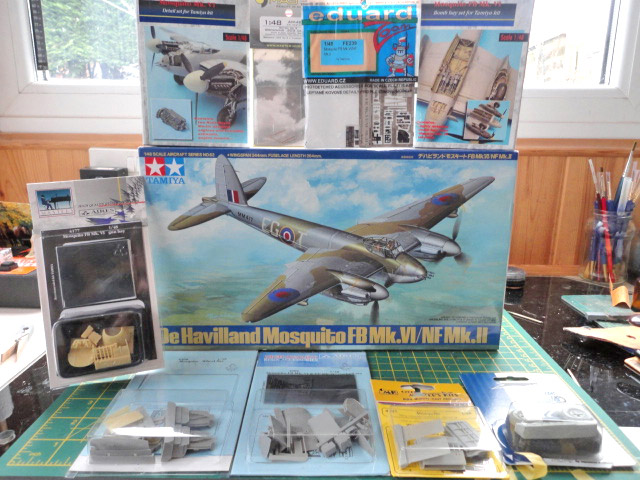 Feature Article with Ian Ratliff
---
A note from Geoff C…
It's always nice to see modellers taking a different approach to a modelling project, often starting with a good kit and ending up with a very unique model. When I saw Ian's very nice interpretation of a 'bare' de Havilland Mosquito Fb.Mk.VI from the excellent Tamiya kit we had to have a discussion about a full build article in SMN – outstanding modelling skills!
And Here's Ian's finished Mosquito – The Wooden Wonder…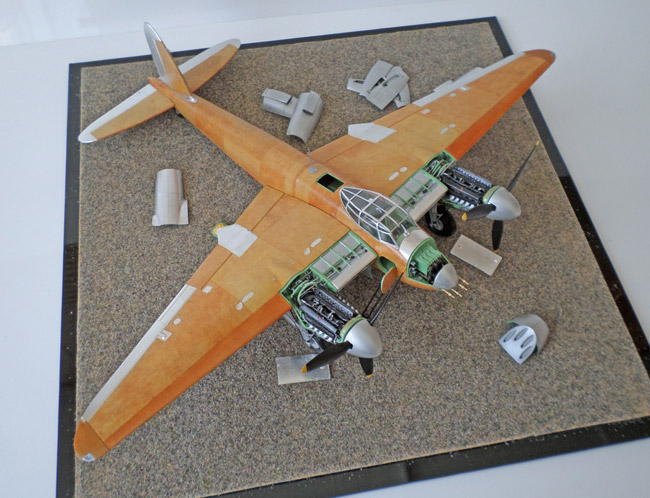 Over to you Ian…
---
This project of the De Havilland Mosquito started out as just a simple decal job as I loved the look of the decals by Uschi but soon took on a different build once I had looked around the market. I then had the idea of doing this model as a build with all the extras I could get, the only issue was I had never used any of these aftermarket manufacture's sets except for a Eduard with a simple cockpit in a Mirage for the Nato Tiger Meet 2003.
So the idea was to build an aircraft in the experiment stage or pre-dope / paint stage.
The Mosquito was a British twin-engine multi roll aircraft built by De Havilland during WW2, it got its nickname 'The Wooden Wonder' as its frame was constructed mostly of wood.
Originally conceived as an unarmed bomber it soon took on many deferent roles within the Royal Air Force. One I didn't know about was to transport other pilots to and from different bases – the only issue was there was only room in the cockpit for the pilot and navigator so the person being transported had to sit in the bomb bay with oxygen mask and full flight suit.
The Mosquito flew with the RAF and other air forces around the world in nearly all conflicts, only to be replaced by the Canberra in the 1950s.
The extras I collected together were:
• Tamiya Kit 1/48 which I've had in my stash for years
• Aries – Cockpit, Bomb bay, Engine set, Front gun bay and Wheel bay
• Czech Masters – wing mounted coolers
• True Detail – wheels
• Masters – .303 caliber Brownings
• Eduard Zoom – Cockpit
• Uschi Wood decals – Knotless 1004 and Fine veneer 1005.
Gallery Grid
(Photo: a selection of some of the accessories used in this project)