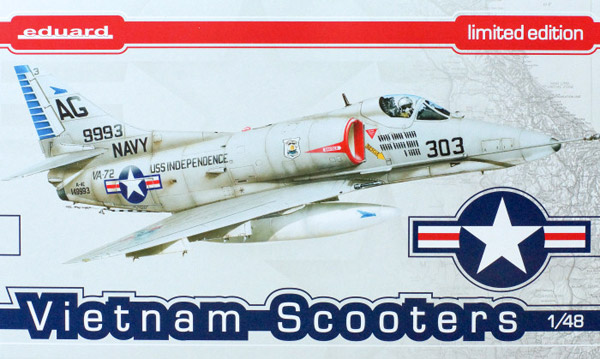 Feature Article with Chris McDowell
---
Just before we get going, I thought you'd like to see Chris's completed model and very nice it is too!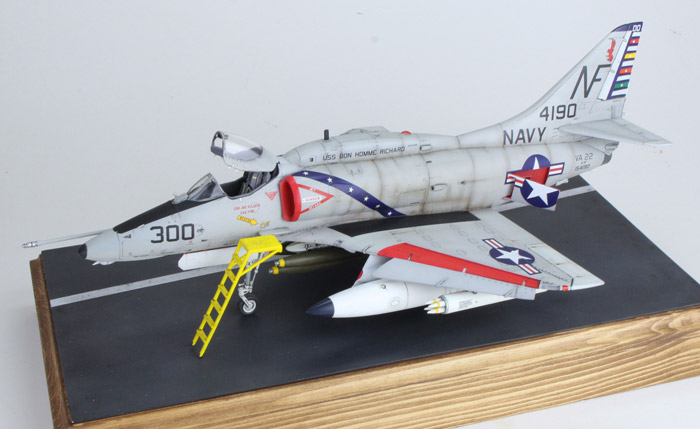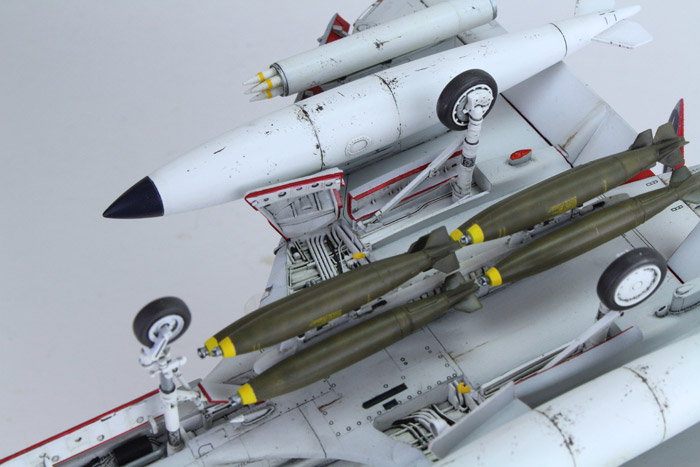 Over to you Chris…
---
The Douglas A-4 Skyhawk is a single seat subsonic carrier-capable attack aircraft developed for the United States Navy and United States Marine Corps in the early 1950s. The delta winged, single turbojet engine Skyhawk was designed and produced by Douglas Aircraft Company, and later by McDonnell Douglas. It was originally designated A4D under the U.S. Navy's pre-1962 designation system. The Skyhawk is a relatively lightweight aircraft with a maximum take off weight of 24,500 pounds (11,100 kg) and has a top speed of more than 670 miles per hour (1,080 km/h). The aircraft's five hard points support a variety of missiles, bombs and other munitions. It was capable of carrying a bomb load equivalent to that of a World War II-era Boeing B-17 bomber, and could deliver nuclear weapons using a low-altitude bombing system and a "loft" delivery technique. The A-4 was originally powered by the Wright J65 turbojet engine; from the A-4E onwards, the Pratt & Whitney J52 was used. Skyhawk's played key roles in the Vietnam War, the Yom Kippur War, and the Falklands War. Sixty years after the aircraft's first flight, some of the nearly 3,000 produced remain in service with several air arms around the world, including from the Brazilian Navy's aircraft carrier, São Paulo. *
Kit choices…
The choice for a Skyhawk in 1:48 scale is a no brainer, both HobbyBoss and Hasegawa have released nearly every variant of the A-4, but in my opinion the Hasegawa offering is the best choice on the market in this scale. So when Eduard decided to release one of their very attractive limited edition kits containing the Hasegawa A-4E/F, I just had to get one.
Along with the finely detailed plastic sprues from Hasegawa, you also get:
• a resin ESCAPAC ejector seat
• coloured photo etch fret
• canopy and wheel masks, and
• Furball Aero-Design decals for six different aircraft.
The box looks quite packed when you first open it up with eight different sprues (one of them being clear for the canopies) all packed into a large single bag. The clear sprue is bagged separately thankfully, but I would have preferred to have had a separate bag for each sprue. If you've made anything from Hasegawa before, then you'll be used to this, but it is something I really hope they address for future releases.
The sprues are moulded in Hasegawa's typical light grey plastic and are very well detailed with subtle recessed panel lines and rivet detail where required. There are no signs of any flash, and with little signs of any clean up required, this should make for a fairly quick build.
The beautifully cast resin seat has had the survival seat pack and backpack parachute moulded separately. Along with the photo etch belts and smaller details, should make this a stunning edition to the completed kit. The photo etch fret though mainly contains details for the cockpit, and should certainly help to improve the Skyhawk's front office.
One thing that is missing from the basic kit and it's certainly not unusual with a Hasegawa release, is the lack of any bombs or missiles. Two external drop tanks are supplied along with the other three hard points (five in total if you don't want to fit the drop tanks), but nothing to put on them.