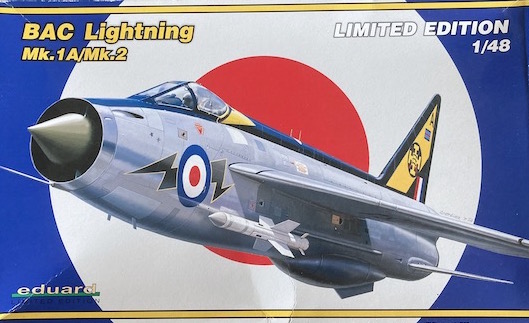 Feature Article with Tim Haynes
(English Electric Lightning F3 from eduard 1:48 Lightning Mk1a/Mk.II boxing)
This started out as a multi build of three separate Lightnings simultaneously way back in 2017, the plan being to build:
1. An F3 from the Eduard F1 boxing, which is the full Airfix kit including all the parts to build an F3
2. A T5 from the Sword kit
3. A Saudi F53 from the early Airfix F6 boxing.
I started the intakes for these (plus two others that I planned to do as nose sections with cutaways to show the cockpit interiors etc) and then we moved house! Two years later having got around to sorting out my hobby room (benefits of moving to a larger place!) I started again. It was at this point the plan changed and the focus became the F3, which was to have a lot of extras thrown at it (see list below). This was completed over 2019 with various house projects interrupting progress in the summer months.
The (Revised) Plan:
To build a 111 Squadron F3 from around the time they displayed at the Paris Airshow in 1965. The aircraft I chose was XP739 'H', which only had a short life being lost on 29th Sept 1965 whilst on approach to Wattisham. This was in a well known photo of four Lightnings taken in formation which I saw on the cover of Scale Aircraft Modelling Vol 22 Issue 3 and provided the inspiration.
As I have previously built a few Airfix Lightnings posed in flight I wanted to do this with as much on display as possible, e.g. upper engine, spine cover open etc. and as I had gathered quite a few Lighting related extras up to that point a lot of mixing and matching took place.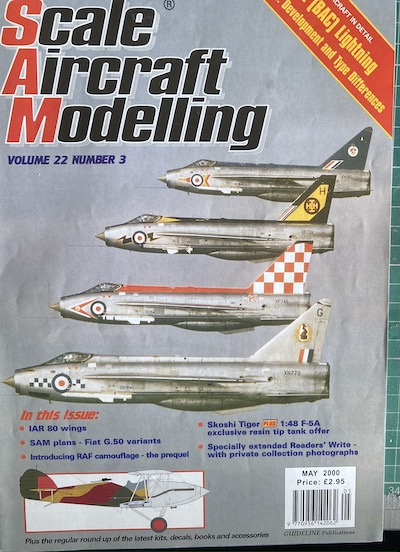 Aftermarket Items:
CMK4348 Engine bay detail set F2A/F6
CMK4022 Interior F2, F3, F6
CMK4351 Spine equipment bay and boxes F2A/F6
CMK4344 Front undercarriage bay
Aires 4319 Wheel bay set Mks 2 – 6
Armoury AW48408 Wheels late style weighted
SAC48032 Metal undercarriage set
Eduard 48251 EE lightning F1/F3 Exterior
Eduard Stencils
Eduard EX093 canopy mask
DMold Modelworks DM48024 Resin intake ring
Model Alliance MA48171 decal sheet
Flightpath FP 48-060a Detail and Weapons set
Various items from the spares box.
References:
I have loads of books on the EE / BAC Lightning, but these two provided the main source of detail:
Uncovering the English Electric Lightning by Danny Goremans & Peter Gordts – Daco Publications
English Electric Lightning – The Lightning Force Vol 2 by Stewart A Scott – Aero Book Company.
Before we get started, here's a look at how it all turned out…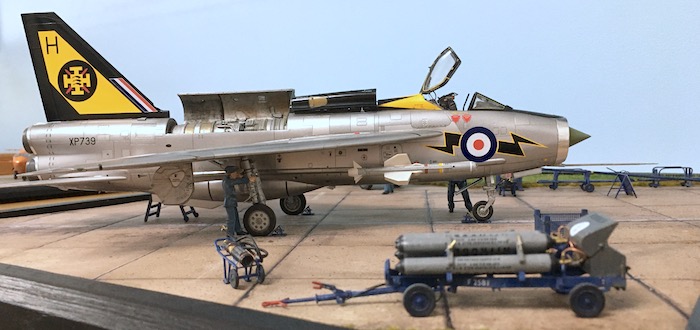 So the following is a summary of the build, that for various reasons is a bit light on photos from the early stages, but I will endeavour to cover the key areas (particularly of the aftermarket items) of fit and assembly.