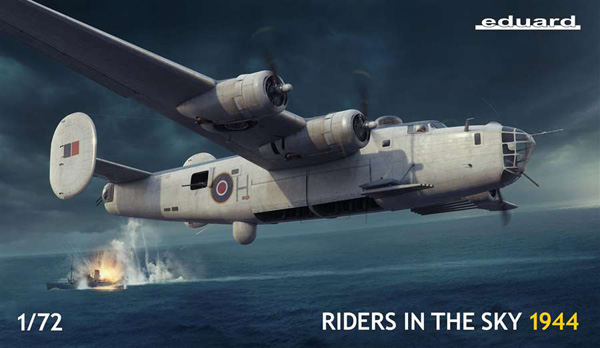 Full Review with Michael Scott
A note from Geoff…
It's great to welcome Michael to SMN and show you his very nice RAF Coastal Command Consolidated Liberator made from the recently released Eduard packaging of the Hasegawa kit plus some very nice extras!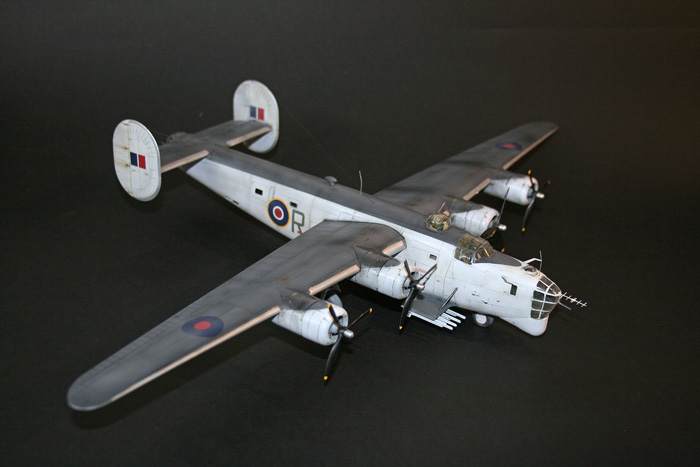 Nice work Michael, so over to you for the story on your build…
---
As model builders we all have our favourite subject or subjects that we would like to see produced in plastic. Whether it be the subject, the place the subject came from, the place the subject was used or indeed the person who was associated with the subject.
We will buy the kit then look at conversion sets, decals etc to build our subject of interest. Then once in a while a kit is released that provides you with all of the above.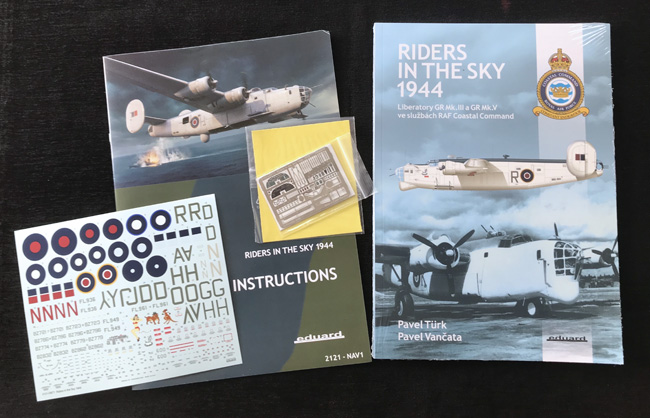 This now brings me to the subject of this build. The Eduard 1:72 "Riders in The Sky" Coastal Command Liberator and my interest in this kit. Eduard have released for me a kit that ticks all of boxes. The subject, the location and the big one for me the person. Eduard have included on the decal sheet markings for the aircraft flown by Squadron Leader Terrence Bulloch.
Squadron Leader Bulloch was born and educated in Northern Ireland. He joined the RAF in 1936. On completion of training he joined Coastal Command where during the course of WW2 he completed over 350 operational sorties, destroyed at least 4 U Boats and damaged a number of others. He was awarded DFC and ended WW2 as Coastal Commands most successful submarine hunter. After WW2 he joined BOAC where he continued his association with the North Atlantic. By the time he retired from British Airways he had crossed the Atlantic over 1100 times.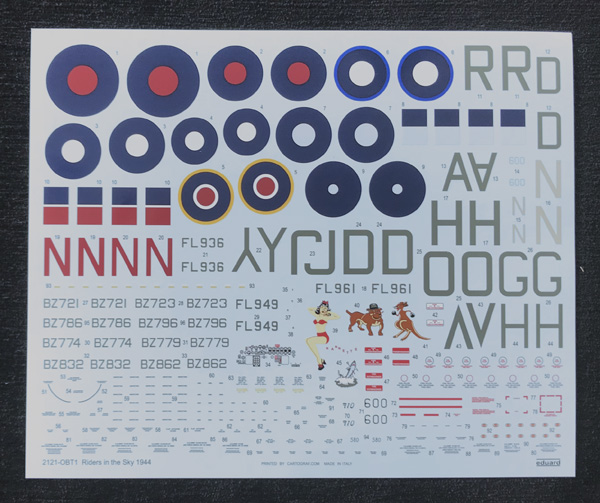 Gallery
The Kit
On opening the large box you will find a number of bags of crisply mounded plastic. These bags contain the original Hasegawa mouldings plus the Coastal Command specific parts moulded by Eduard.
The plastic is nicely engraved and includes the nose section moulded in clear plastic. You also get two photo etch sheets, masks and a large decal sheet containing several aircraft options.
Gallery
Also included in the box is a book on Coastal Command Liberators written in Czech (English translation is available on the Eduard website) which contains some lovely reference photos and colour profiles of the aircraft included in the kit. The package is completed with an impressive print of the box art. Indeed Eduard have provided what I think is a very complete package removing the need to go out and spend lots more of your cash on aftermarket enhancements. Value for money? I think so, my copy cost just over £80.