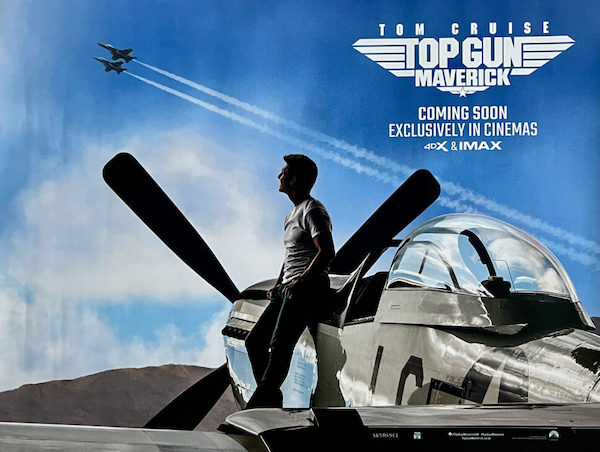 Feature Article with Dave Coward
Background…
If you have a look around the magazine builds you'll notice I have a 'bit of a thing' for building aircraft from the movie 'Top Gun' such as the F-14, A-4 and Mig -28 (F-5E). Now that its sequel 'Maverick' has been released I'm also trying to build some of the aircraft from it starting with Tom Cruise's own P-51D Mustang which features in the movie.
Cruise's Mustang, registered as N51EW, was built as an F-6K-15-NT with a Construction Number (CN) of 111-36123 at North American's Dallas assembly plant in 1944. P-51Ks and F-6Ks were built in Dallas and differed from the D models primarily in the propeller department. Ks were equipped with an 11-foot Aeroproducts prop as opposed to the 11-foot 2-inch Hamilton Standard mill. The K canopies were a shaped a little bit differently as well. In use the hollow Aeroproducts propeller was unreliable, especially at high power settings. Many P-51Ks were refitted with a different Ham-Stan prop later in life. F-6Ds and F-6Ks were built with a pair of K-24 cameras (one vertical and one oblique) mounted aft just ahead of the tail wheel.
The photo-reconnaissance-capable fighter was delivered to the US Army Air Force in 1944 and given the serial number 44-12840. There is no reliable record of actual use by the USAAF, and 840 may have sat idle in storage at one of the scores of equally idle bases in the States, but in 1946 840 was donated to the Civil Air Patrol. Between then and 1997 the aircraft was privately owned, for at least a few years by Earl Reinert with Victory Air Museum in Illinois. Between 1982 and 1987 the Mustang underwent a lengthy restoration at B&D Enterprises in California.
Ownership of 840 changed hands midway through the restoration, picking up the registration N51EW when owned by Eddie Wallachs of Lake Bluff in Illinois. Restoration was finally completed in 1997 by Al Teeters at Cal Pacific Airmotive in Salinas CA. As newly-restored Mustangs are wont to do, 840 won best P-51 at Oshkosh the following year (1998). The aircraft was then still based in Illinois but took up residence in California during 2001 when actor Tom Cruise (operating as Valhalla Aviation out of Bob Hope Airport in the Los Angeles area) acquired her. The Mustang has also been based at Van Nuys in the past. Tom Cruise became a licensed private pilot in 1994 and owns several other aircraft including a Gulfstream IV-SP.
840 wears the late-war colours (but not the QP- codes) of the 334th Fighter Squadron Fighting Eagles, 65th Fighter Wing, 4th Fighter Group, which were based at USAAF Station 356 (RAF Debden) as part of VIII Fighter Command. In July of 1945 the 334th FS moved to USAAF Station 122 (RAF Steeple Morden). 840 has been adorned with the names "Kiss Me Kate" (relating to his wife at the time Kate Holmes) and "Montana Miss" but most current images of the warbird show her without any moniker or nose art.
Cruise's Mustang is one of only two flyable F-6K Mustangs in the world out of the 164 F-6Ks built by North American Aviation. The other is registered as N357FG- also built at North American's Dallas assembly plant as an F-6K-15-NT in 1944. Painted today as SN 44-13318- Frenisi, the aircraft was built with a CN of 111-36135 (12 airframes later than Cruise's Mustang) and was given the serial number 44-12852. Both 840 and 852 were restored as P-51K Mustangs with the photo-reconnaissance equipment and rear fuselage apertures removed.