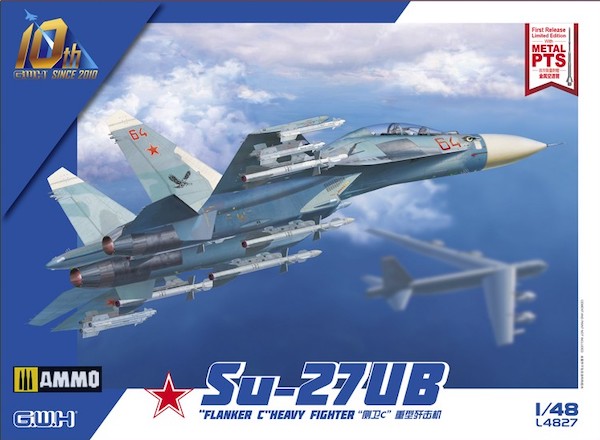 Feature Article with Manuel Magrinho
Kit Ref:(L4827)
Before we get started, here's a look at how it all turned out…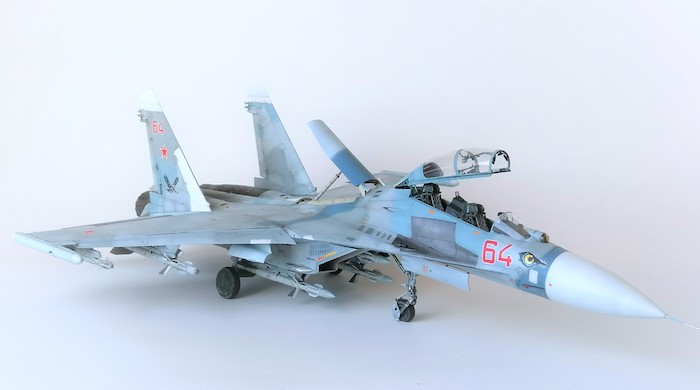 The SU-27 GWH kit in my favourite version, the SU-27 UB at 1:48 scale, is impressive.
The box, of top quality and superb box-art, houses a huge amount of impeccably packaged plastic sprues with incredible detail:
• a metal pitot
• photo-etched options
• two versions of canopy (one is a full transparent plastic and the another one is a plastic frame with transparent canopy parts with vertical casting to reproduce that Omega shape)
• a case with missiles, moulded in a whole piece, and
• hundreds of the finest decals.
Without a doubt one of the best kits I have ever seen. Laborious, but with a potentially very rewarding result.
As usual, I started by carefully studying the instructions, trying to understand the various steps of construction, potential precedence, sub-assemblies, weaker sets, etc.
Having chosen the version to build and gathered photos of the real plane, I also added the entire huge set of colours listed in the instructions.
I had been curious to try AKAH paints for some time now and this subject fully justified this daring. AKAH paints, created by analysing (with a spectrometer) the original colours, provide the main and necessary colours. Pack 46301 was chosen. Although they are not easy to obtain, I ended up finding them available online.