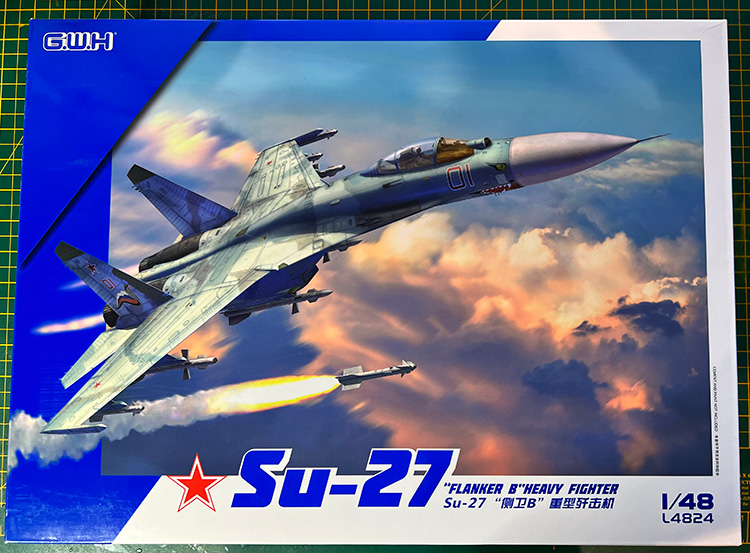 Reviewer's Name: Dave Coward
Background
I'd always had an interest in building a Ukrainian Su-27 in the three-tone digital camouflage scheme that was introduced in 2015. I bought the Foxbat mask set for the two-seater Su-27A several years ago and even acquired a two seat Academy Flanker. Unfortunately, the kit I bought was the Su-30MK which turned out to be quite a bit different to the earlier Ukrainian so that was sold on but I did keep the Foxbot set in the hope of acquiring a decent Su-27 at some point. Eduard did release a SU-27UB in 2013 but this kit was still the based on the Academy kit with all its accuracy issues even though it did have some nice PE, resin and decals. I did have a look for this kit but it turned out to be elusive and when I could find one quite expensive so this Ukraine Su-27 was indefinitely put on hold.
Roll forward to 2022 and two things happened, firstly the Ukrainian/Russian War re-ignited my interest in doing this project as a tribute to the Ukrainian Air Force and secondly, I saw a stunning completed GWH Su-35 at the Scottish National Model Show in Perth. I happened to know the modeller who made this and after a quick conversation and being told that they also produced a single seat and twin seat Flanker I was on a mission to find one. I couldn't find the twin seater but I did manage to get hold of the single seater which I hoped the Foxbot masks could be adapted to so the project was back on.
Without spoiling how it went here's a couple of pictures of my finished model so have a read on to see how I got here.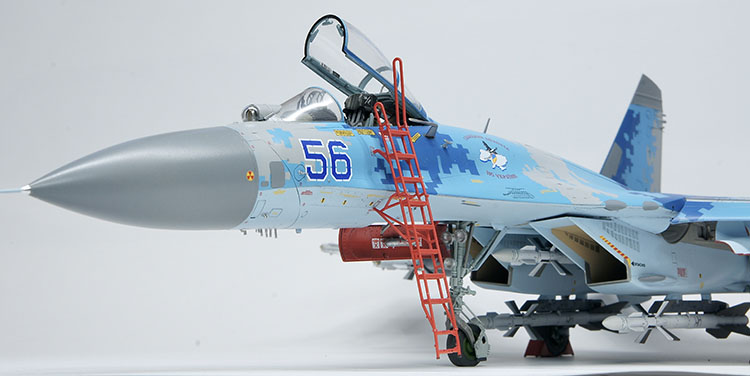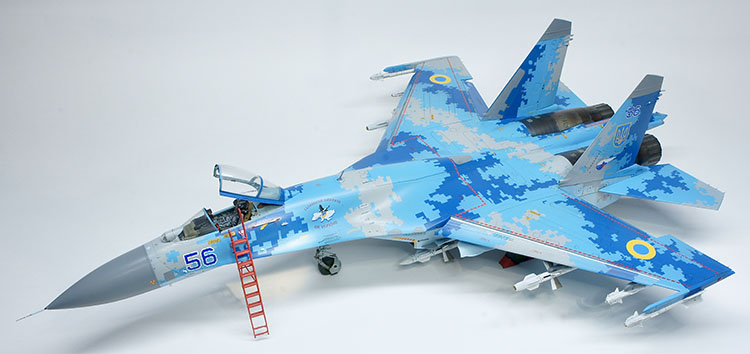 References used:
Basically, I used the internet as there are lots of pictures of Ukrainian Su-27s as prior to the Ukraine / Russia War they were a regular and very popular visitor to Western Airshows. Below is just a small selection of the ref pictures that I used that were invaluable in this build.
Aftermarket Extras:
First lesson here is to have a good look in the box before you purchase aftermarket items as you may find that in some cases the kit is that good that you don't actually need a lot of it – here being a perfect example of that!
What I bought and what I actually needed:
Foxbot mask and decal set – essential for the scheme I was doing
Eduard PE interior – not required as the surface cockpit details are excellent and with some care the cockpit decals can be made to sit perfectly on this
Eduard Brassin seat – not required – the kit seat detail is excellent
Eduard Brassin Wheel set – the kit wheels are very good but I did use these as they are just that little bit better in detail.
Neware mask sets for the airframe and engine – not essential as the kit includes masks for the major parts but these masks cover all the little parts such as the antennas and the engine masks will make your life a lot easier.
Master Brass node pitot tube – Not required – the kit has a metal pitot included in it
LP 3D printed ladder and chocks – no ladder or chocks are included in the kit so these are a nice finishing touch for the model but not essential.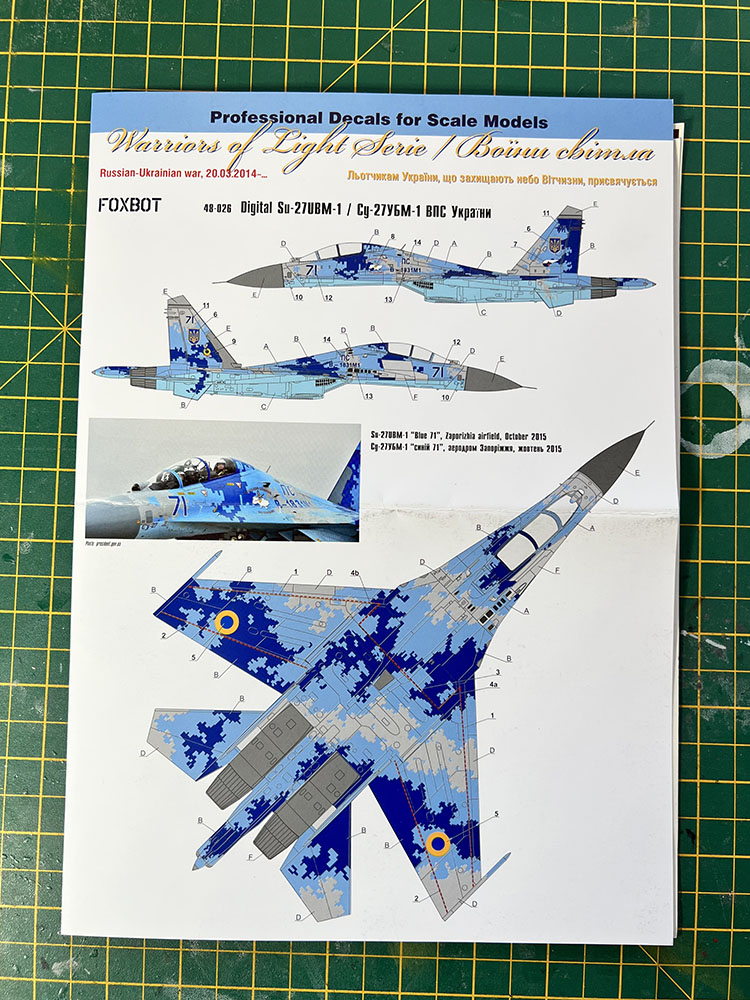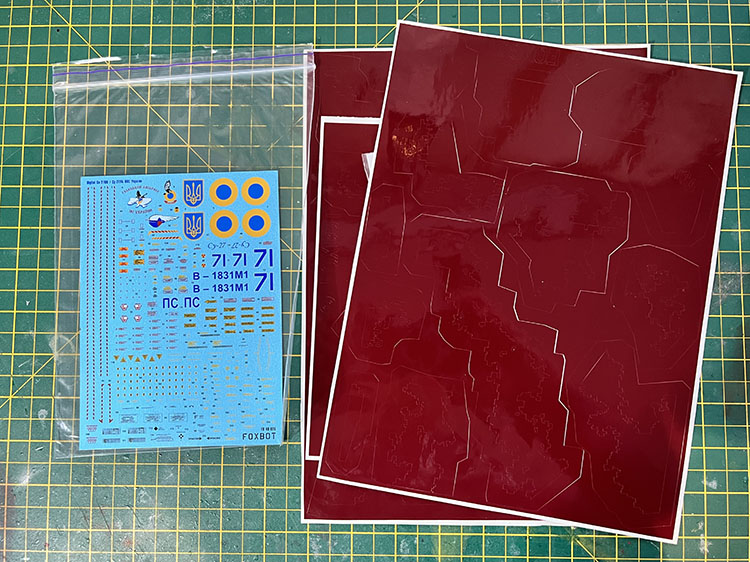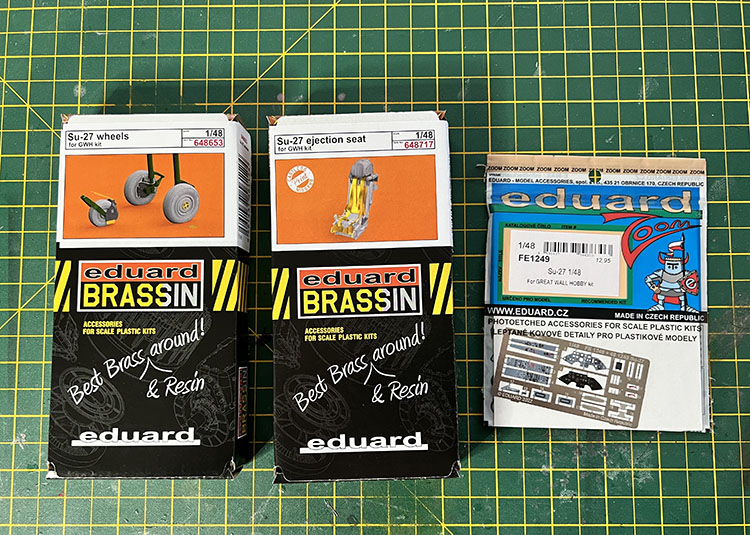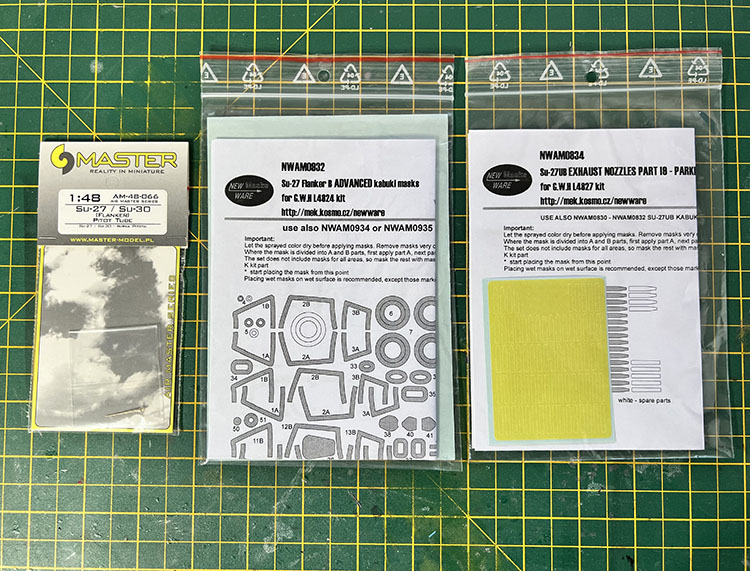 So, what's in the box?
Rather than me try to explain what you get have a look at the video below as I go through the contents, colour options and the aftermarket items that I had originally purchased.
---
VIDEO DEMO