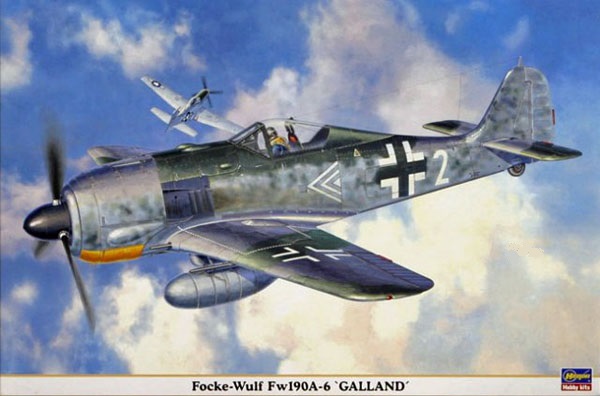 Feature article by Dave Coward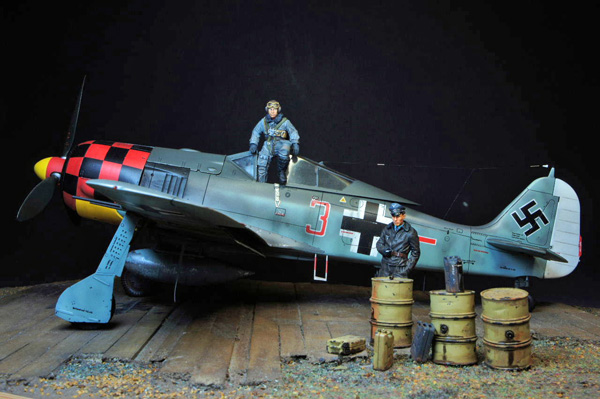 Here's a pic of Dave's completed model – I just love his addition of figures and a simple base that combined, really set off his completed build – great stuff Dave! And another to 'zoom' into that will appear in the final gallery at the end of this build.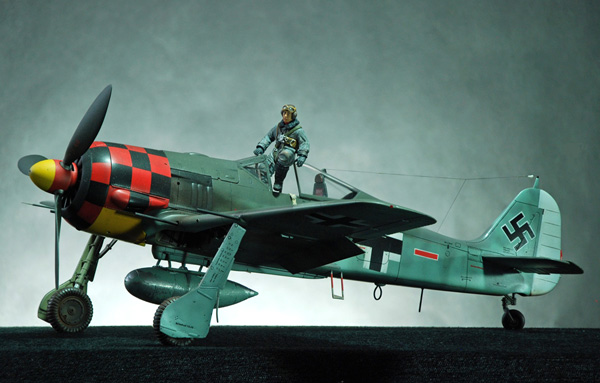 ZOOM - Move your mouse over image
Background
I had this kit sitting in my `stash` for quite a while and I needed a straightforward back to basics build after a few recent `problematic` projects; I also needed a prop for a figure I had painted for a little tutorial (in your SMN Techniques Bank) and this was the perfect opportunity.
I`ve always had a soft spot for the '190' but had never built the Hasegawa 190A (I have done a D-9 in JV44 Colours) but all reviews had it as a nice build – just what the doctor prescribed for AMS (Advanced Modellers Syndrome – aka a bit fed up with modelling !!!). As you can see I have used quite a bit of aftermarket stuff but only because I had it lying around – the only things you really should consider are some replacement decals/masks and seatbelts to make a nice model from this kit.
References used:
Valiant Wings Airframe and Miniature No.7 – The Focke-Wulf Fw190 Radial Engine Series
Aftermarket Extras:
Montex Masks
True Details Resin weighted wheels
HGW seatbelts
Black Dog control surfaces
Eduard Colour PE interior
Master Cannon and Machine Gun Barrels