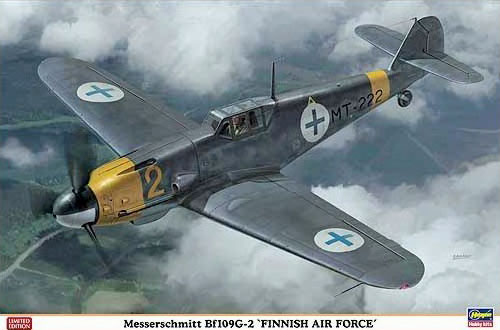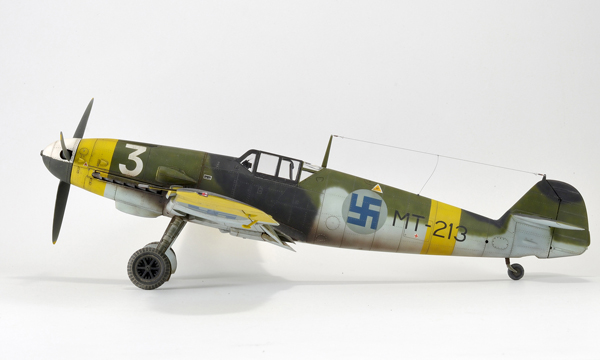 Feature Article by Ralph Riese
Kit: Item 08320
Messerschmitt Bf 109 G-2 (W.Nr. unknown)
"White 3", MT-213, Finnish Air Force
lmt. Ilmari Juuilainen, 1/ Hävittäjälentolaivue 34
Suulajärvi airfield, Russia, April 1944

ZOOM - Move your mouse over image
Construction: Out-of-the-box as per kit instructions with some surface detail and aftermarket enhancements.
Enhancements: Bf109 G-6 donor kit backdated to G-2 surface detail, and rivet detail added;
Seat harnesses from Tamiya tape; aerial from invisible monofilament; aerial cones from scrap plastic stretched over a sharpened pencil, and springs from fine copper wire and,
tail wheel assembly from Eduard's Bf109 E kit.
Aftermarket: BARRACUDACAST BR 32122 Bf 109F-4 to G-14 Prop and Spinner set.
Eduard JX007 Bf 109G-6 canopy mask set.
Painting: Described below
Markings: Stencils – kit decals.
Main markings – custom made masks by Miracle Paint Masks.
Scale finish: Finished and weathered to represent a front-line fighter aircraft on station with 1/HLeLv 34 in Russia in April 1944.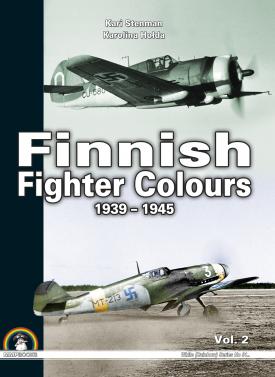 References: Hasegawa kit instructions
Murawski M.J. (2008). Messerschmitt Bf 109 F Vol.II. Kagero Monographs No.35
Information from Mika Heikkilä's library.
Finnish Fighter Colours 1939 – 1945 Volume 2 available from MMP Books.