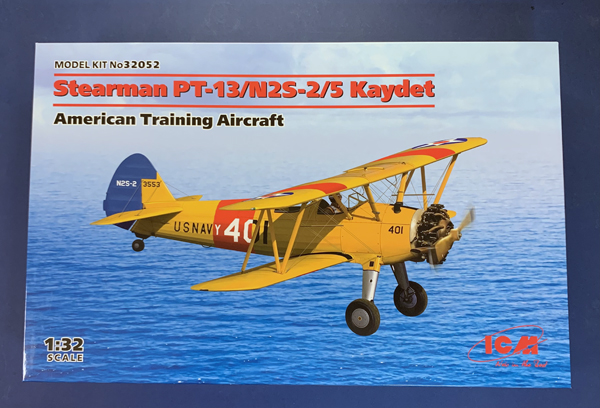 Full Review with Dave Coward
Kit Ref No. 32052

Background
The Stearman (Boeing) Model 75 is a biplane formerly used as a military trainer aircraft, of which at least 10,626 were built in the United States during the 1930s and 1940s. Stearman Aircraft became a subsidiary of Boeing in 1934. Widely known as the Stearman, Boeing Stearman or Kaydet, it served as a primary trainer for the United States Army Air Forces, the United States Navy (as the NS and N2S), and with the Royal Canadian Air Force as the Kaydet throughout World War II. After the conflict was over, thousands of surplus aircraft were sold on the civilian market. In the immediate post-war years, they became popular as crop dusters, sports planes, and for aerobatic and wing walking use in air shows (source: Wikipedia)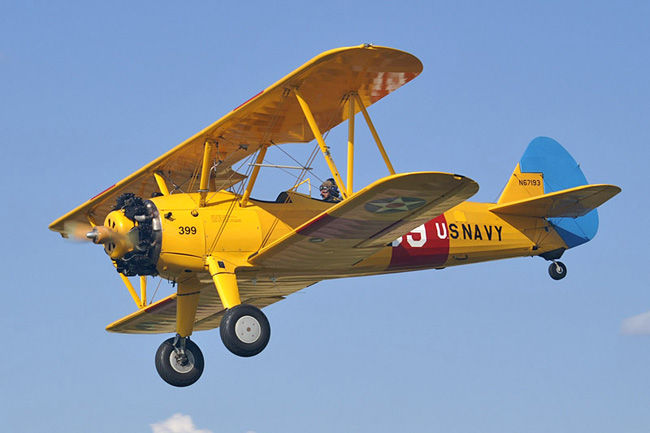 Here's a look at how it all turned out…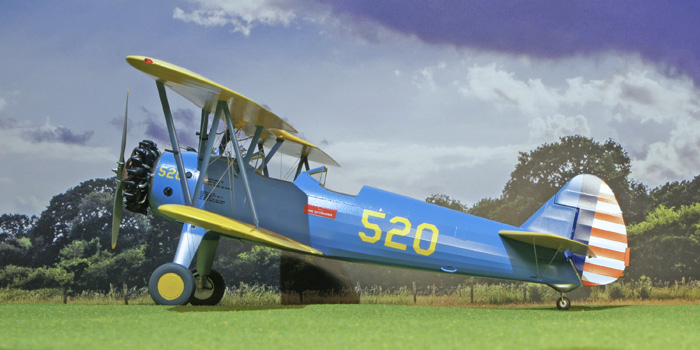 What's in the Box?
The kit comes well packaged in ICM's 'bomb proof' boxing which is a box within a box (Revell could learn from this !!) with some lovely box art showing a Yellow US Navy training aircraft on the front. This is the third boxing of this kit
1. 32050 – Stearman PT-17/N2S-3 Kaydet American Training Aircraft
2. 32051 – Stearman PT-17 with American Cadets
3. 32052 – Stearman PT-13/N2S-2/5 Kaydet, American Training Aircraft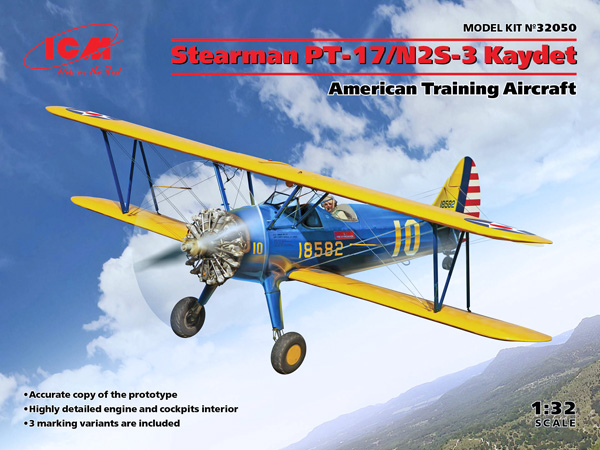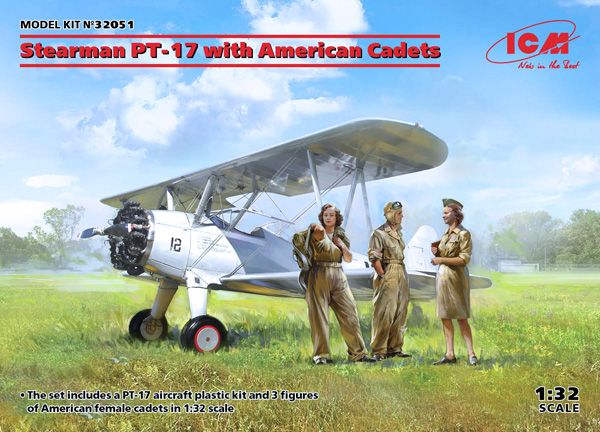 The top box is removed to reveal a second enclosed box which, when opened, reveals a single bag with all the plastic parts, an instruction sheet and a decal sheet. Inside the bag are 4 grey plastic sprues and a single small clear sprue. All are very well moulded with no obvious flash or short shots. Surface detail is excellent, ejection pin marks are all on non-visible surfaces and the sprue attachments are minimal. Care will still need to be taken when removing some of the more delicate parts such as the cockpit framing as damaging is easy, so I recommend a good quality pair of snippers for this job.
The instruction sheet is well printed and on first impressions it appears to show a logical and clear build sequence. There are 3 decal options at the back of the instructions with colour call outs but more on these later on in the build. One nice touch is a masking template for the windscreens onto which masking tape can be placed and cut out.
The decals are well printed and in register and the carrier film is both thin and minimal. These cover the markings for the three options, stencilling and instrument dials. The only thing that is missing from the kit are seatbelts so these will have to be sourced from aftermarket manufacturers or the spares box.
Aftermarket Extras:
• Eduard 33265 Interior Stearman PT-17/N2S-3 1/32 (designed to be used with ICM kits)
• Eduard 33266 Stearman PT-17/N2S-3 seatbelts STEEL 1/32 (designed to be used with ICM kits).