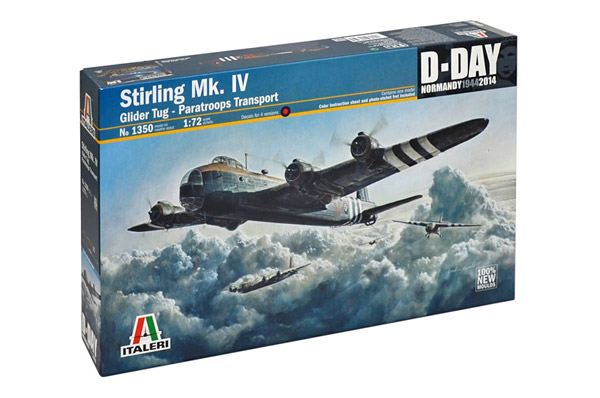 with Brian Wakeman
A note from Geoff…
It's a real pleasure to welcome Brian to SMN with his first contribution in the form of the Italeri Short Stirling Mk.IV RAF WWII heavy bomber.
Given that this project is now completed I want to show you a photo right up front of how it all turned out and an impressive result I'm sure you'll agree – love it, especially the heavy weathering that I think gives life and soul to this model project.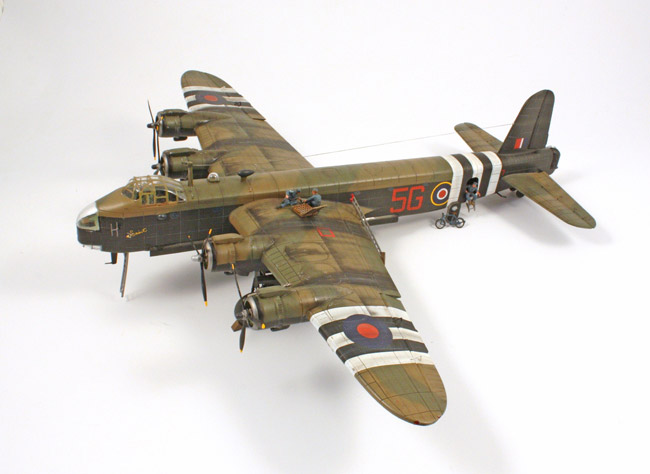 Over to you Brian…
---
Kit reference: 1350
Price around £39:99
Available from The Hobby Company Ltd (UK importer) and Italeri stockist.
www.italeri.com
First of the heavies!
Stand first…
Many of us remember how terrible the old sixties vintage Airfix Stirling was, unworkable shiny black plastic and full of rivets. Now Italeri have stepped up to the plate with an elegant looking modern masterpiece of the Mk.IV glider-tug version. This version following on from their earlier equally well crafted Mk.I bomber.
The Short Stirling was the first of the Royal Air Force (RAF) Bristol Hercules radial powered four-engine heavy bombers on the front line, but not without fault. This was down to operation altitude issues and was soon superseded by the more familiar Handley Page Halifax and the legendary Avro Lancaster bombers.
Answering a 1936 proposal from the British Air Ministry, the Stirling Mk.I saw service from 1941 and was soon prowling over the skies of the Reich. Heavy attrition over two years had her transferred to glider and transport duties in the Mk.IV/V guise.