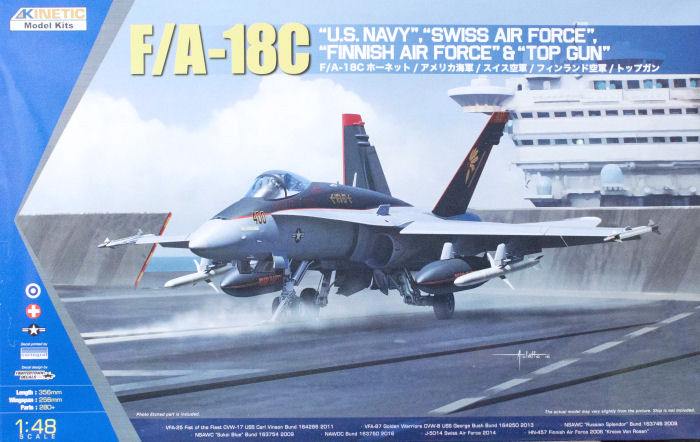 Feature Article by Alan Kelley
A note from Geoff…
Really pleased to be able to welcome Alan to SMN – he's a great modeller as you'll see from looking at the following photo of his completed Kinetic F'A-18C Hornet. What follows is his story taking you through the recently released Kinetic kit and having build several Hornets over the years I'm really keen to see how this one goes together.
SMN offers readers a lot and one thing I am proud of is that we give all contributors the space to show exactly what they did, including many more photos and all the necessary words to allow contributors to tell their story in full. My view is simple… if someone puts in all that effort to create the best they can, the least I can do is show it all to you, only editing and tweaking for consistency in format. Let Alan tell you his story, in his words, not mine – so much more authentic and interesting for you, and me!
Here's a quick look at Alan's completed model, originally going to Model Aircraft – nice, isn't it!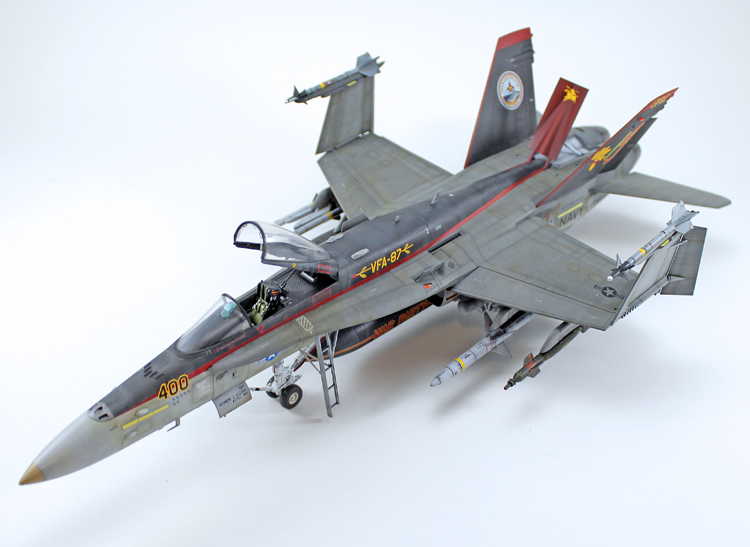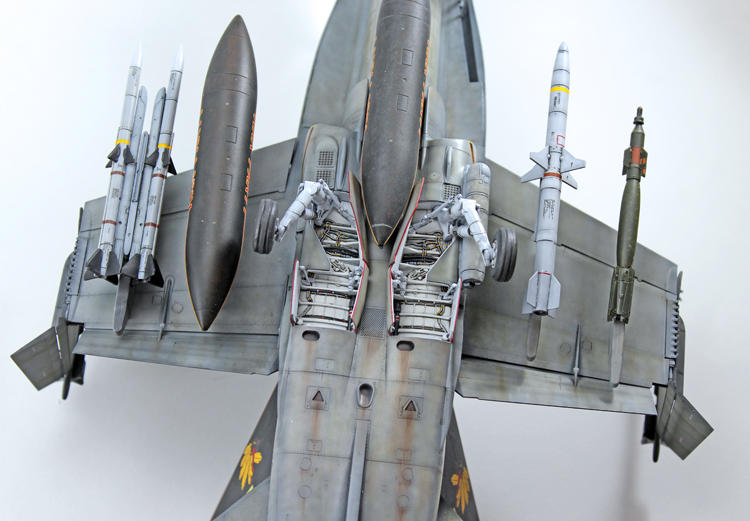 ---
Over to you Alan…
When I was approached in May of this year and asked if I would be interested in building the brand new Kinetic 1:48 F/A-18C Hornet kit I immediately jumped at the chance.
This is the 2nd major release from the Hong Kong based manufacturer this year, after their SU-33, and it looks, upon first inspection, beautiful. The kit comes moulded in grey styrene, with a fret of photo etch. The surface detail looks superb on first inspection, with fine, recessed panel lines. The cockpit and wheel wells look well detailed and will be great fun to paint.
The accompanying decal sheet gives you the option of modelling one of 7 aircraft- 2 USN, 3 Top Gun, 1 Swiss and 1 Finnish version. For the Swiss and Finnish versions you have the option of removing a cover on the nose to place the searchlight featured in this version of the aircraft.
There is also a sheet of extensive markings for the many weapons included in the kit. However these are not accurate- there is an AGM-88 Harm missile provided, there are instructions for decal placement but no decals provided. There are decals however, for the AGM-65 Maverick – but no missile comes with the kit.
Instructions?
This leads me onto what is biggest flaw with this kit – the instructions are awful. On first inspection they are a massive improvement over the SU-33 instructions but after a closer look they are littered with errors. During the construction progress of the model there were many times I had to scratch my head and figure the part placement out – several times the wrong part is indicated to be glued on; I really had check every piece before gluing in place to ensure it was correct.
That being said, if you can live with the instructions, then this will build up into a great representation of the only available late model-C Legacy Hornet in 1:48th scale.
I used several additions to the kits during the construction:
I added a resin MK14 (SJU-17) ejector seat from my spares box
Brassin GBU-12 Paveway II
I also had to purchase the Brassin AGM-88 to get the correct markings
There is also no LAU-127 launch rails supplied with the kit so I purchased the Attack Squadron set, and finally…
a Wolfpack Productions AN/ASQ-228 ATFLIR used on the scheme I decided to model my F/A-18 in- the 2013 VFA-87 Golden Warriors (War Party) CAG scheme. I have seen several photos of this looking rather beat up and weathered which really appealed to me.